Berkeley Kite Fest, Sing-A-Long Hairspray, High and Mighty Brass Band, Pedalfest 2015, Los Amigos Invisibles, Up Your Alley Fair, and more.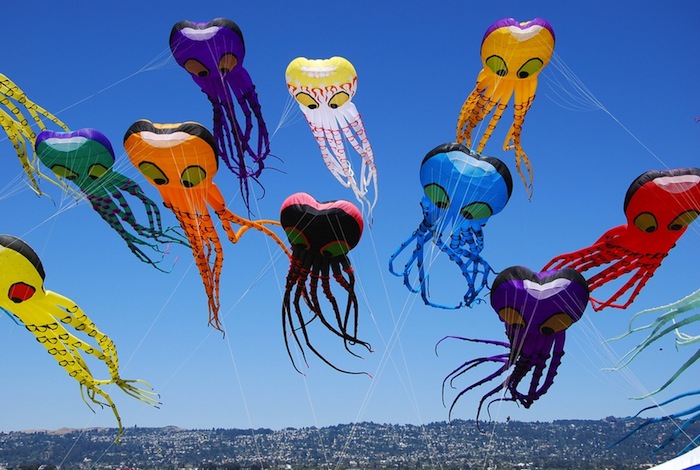 BIG WEEK Ostensible tourist attraction that more locals should check out: The Cable Car Museum. Have you been? Lately? It's pretty great. I was put in mind of it both by the announcement that a new E-Embarcadero Muni Line is finally starting up Aug. 1, and the crowning, earlier this month, of a new Cable Car Bell Ringing Champion, Byron Cobb.
I am definitely among those who hardly hop aboard our storied cable car lines unless family or friends are in town, but will openly weep with pride when I see one pop up in old movies and TV shows, or when I find the remnants of old tracks from the eight cable car lines that survived the 1906 earthquake (now we're down to three), or old tracks of any kind, nestled along back yards and restaurant patios.
In any case, a perfect summer day activity is to hit up the museum in the morning to rediscover some fascinating past (and awesome machinery) — it's open 10am to 6pm — and then jump on a cable car right outside the museum and reacquaint yourself with one of the primal joys of San Francisco. (You can use your Clipper Card, it's $7, just hand it to the driver and ride around as much as you like, and you don't have to hop on with the tourists at Powell and Market.) This is also kind of the perfect romantic date for the adventurous — you'll probably spot a nice wine bar or ice cream shop along the right route.
Below are some more perfect things to do. (Also check out our previews of the 35th Annual SF Jewish Film Fest and awesome-sounding stage event Juárez: A Documentary Mythology, happening this week.)
>>>>> TUESDAY, JULY 21 <<<<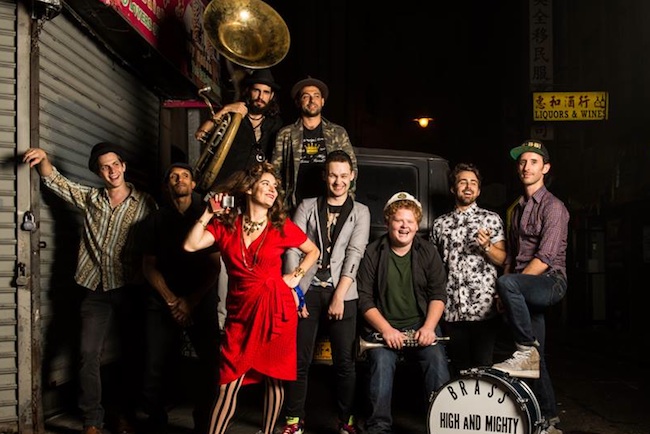 >>> HIGH AND MIGHTY BRASS BAND Dr. John, Rebirth Brass Band, and Trombone Shorty… These great names in New Orleans jazz have collaborated with this young and brassy outfit, sure to bring a second-line spring in your step. Tue/21, 8:30, $15. The Chapel, SF. Tickets and more info here. 
>>> TANGERINE I've been dying to see this new movie, shot on an iPhone, about two transgender prostitutes traveling through Los Angeles on Christmas Eve. It opened here over the weekend to rave reviews, and looks to be one of the movies of the year. Playing at Embarcadero Center Cinema in SF and California Theatre, Berkeley.
>>> REINVENTING WATER There's sure to be a lively panel discussion at the Commonwealth club in the search for a solution to our current, parched state. Anna M. Michalak (Carnegie Institution for Science), Abrahm Lustgarten (Pro Publica),
Tamin Pechet (Banyan Water CEO and Chairman of Imagine H2O) and David Sedlak (Professor of Mineral Engineering and co-director of Berkeley Water Center) take the stage. Tue/21, 6:30[m, David Brower Center, Berkeley. Tickets and more info here. 

>>>>> WEDNESDAY, JULY 22 <<<<<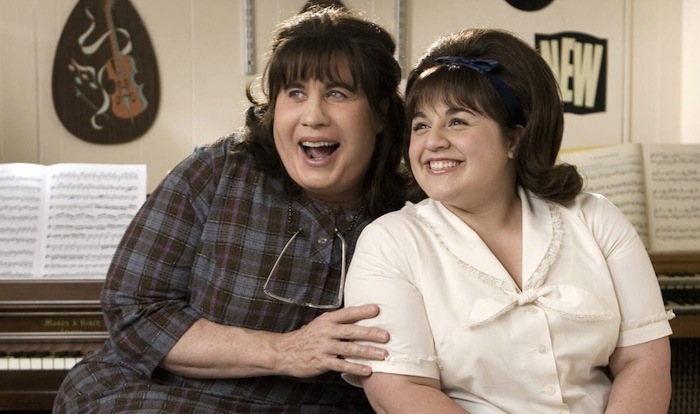 >>> SING-A-LONG HAIRSPRAY The 2007 Hollywood version of John Waters' classic musical '60s-homage — starring a fat-suited John Travolta in a dress, no less (with  Michelle Pfeiffer, Christopher Walken, Zac Effron, and Queen Latifah in tow) comes to the Bernal Heights Public Library. Bring the whole family and belt out "Good Morning, Baltimore" with other fans. It's OK if you don't remember all the words. Wed/22, 6:30pm, free. Bernal Heights Public Library, SF. More info here. 
>>> KMFDM The French bad boys of pounding industrial music are back, continuing to cross the line between heavy metal and techno, just like they did back in the mid-'80s. The group just released a new album, Our Time Will Come; get ready to free your hate and kill everything with a bunch of other black-clad, stomping, shouting sloganeers. Wed/22, 8pm, $25. Mezzanine, SF. Tickets and more info here.
>>> KATCHAFIRE This all-Maori reggae band from H-Town, Aoteoroa (otherwise known as Hamilton, New Zealand) has become a "global roots music phenomenon," constantly traveling the world and setting crows on, yes, fiyah. Wed/22, 7pm, $25, all ages. Regency Ballroom, SF. Tickets and more info here.
>>>>> THURSDAY JULY 23 <<<<<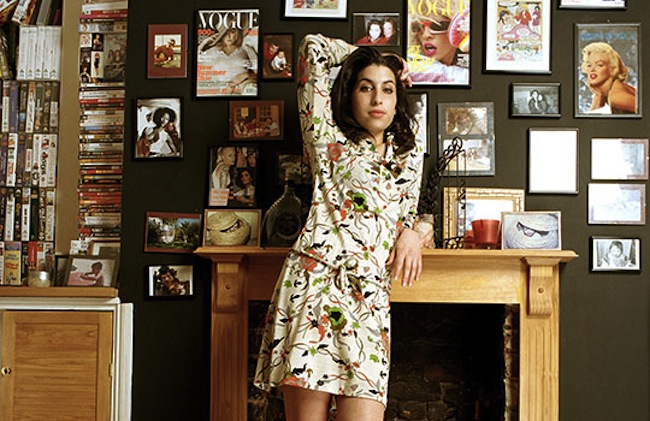 >>> "AMY WINEHOUSE: A FAMILY PORTRAIT" If you haven't yet seen the devasting new documentary Amy, you should, if only because it offers a quiet yet searing indictment of our celebrity-driven recent past. For this related museum exhibit at the Contemporary Jewish Museum (curated by the Jewish Museum London), the Winehouse family "offered unprecedented access to Amy's belongings, including her guitar, record collection, and iconic outfits." Also included are family photographs "revealing her strong Jewish roots and heritage." Opens Thu/23, runs through November 1. Contemporary Jewish Museum, SF. Tickets and more info here.  
>>> PLAZA 16 COALITION COMMUNITY MEETING Get the latest updates on the fight for affordable housing in the Mission and beyond, as well as hear about next steps now that the Mission Luxury Housing Moratorium has qualified for the November ballot (with 15,000 signatures). The Monster on Mission and the Beast on Bryant must be stopped! Thu/23, 6pm, free. Episcopal Church of St. John the Evangelist, SF. More info here. 
>>> ODC SUMMER SAMPLER Music by Jimi Hendrix, John Lee Hooker, and Shikouchi Kina accompany this trio of renowned repertory dances by the ODC Dance Company: "Two If By Sea," "Scissors Paper Stone," and the absolutely wonderful, hilarious "I look vacantly at the Pacific…though regret" (imagine a language course gone haywire, expressed through dance). The Summer Sampler is an annual tradition, spirited and long-limbed, and an excellent introduction to one of our best contemporary dance companies. Thu/23-Sat/25, 8pm, $30. ODC Theatre, SF. Tickets and more info here.
>>> DRUGS IN THE TENDERLOIN The first showing in 50 years of this KQED documentary, "a stark and often harrowing look into the life of the street denizens of the notorious San Francisco district which was a haven for junkies, prostitutes, and pushers during the Sixties… it takes a real gutter-level look at its subject, the grainy night photography capturing beehive-haired hookers and turtle-necked dope dealers plying their trade against a smoky backdrop of seedy neon." Thu/23, 6:30pm, $10. tenderloin Museum, SF. More info here.
>>> "THE SPY WHO LOVED ME" Sheena Easton —  she's not just "For Your Eyes Only" (sorry, groan). The Grammy-Award winning singer (and Prince's once-upon-a-time partner in pop) is taking to the stage, singing music from James Bond films with our very own SF Symphony, including themes from  Goldfinger, The Spy Who Loved Me, and Skyfall. Thu/23, 7:30pm, starting at $60. Davies Symphony Hall, SF. Tickets and more info here. 
 >>> THE UNAMERICANS Author Molly Antopol reads from her National Book Award-nominated book of short stories, "a stunning exploration of characters shaped by the forces of history." Thu/23, 7pm, free. Books, Inc. Berkeley. More info here.

>>>>> FRIDAY JULY 24 <<<<<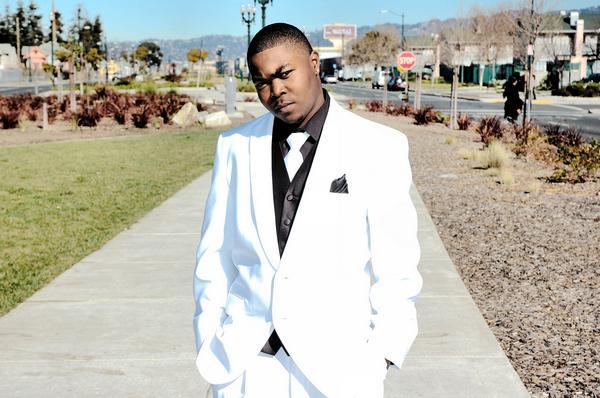 >>> J STALIN One of our favorite East Bay rappers, J Stalin has an unbeatable way with words and a sly sense of humor. Haven't heard from him in a minute, but he's back with an upcoming release, "Memoirs of a Curb Server," and what's in all likeliness a great live show. Fri/24, 8pm, $21-$26. Slim's, SF. Tickets and more info here.  
>>> LOS AMIGOS INVISIBLES The beloved Venezuelan rockers (with quite a bit of funk and disco thrown in) will pack the Fillmore with a couple decades-worth of fans for their Gozadera Acustica tour — all unplugged and all very lively. It will be a very good-looking crowd. Fri/24, 8pm, $28.50. The Fillmore, SF. Tickets and more info here.
>>> NEIL HAMBURGER Ah, comedy so deadpan it really hurts from this eternal grouch and hallowed roaster of the hip. You will be appalled, alarmed, uncomfortable, probably even slightly WTF. Fri/24, 8pm, $16. Independent, SF. Tickets and more info here. 
>>>"LEARN YOUR LESSON ABOUT PUBERTY — A HORMONAL SHOCKUCATION" Did you know that Disney teamed up with Kotex in 1945 to make a "dreamily animated" short film called "The Story of Menstruation"? See it on a big screen, along with Dear Diary: A Film about Female Puberty (1981), Am I Normal? A Film about Male Puberty (1979), The Body Human: The Facts for Boys (1981) and more cringe-inducing tours of the adolescent body from yore at this typically oddball event from the Oddball Film folks. Fri/24, 8pm, $10 (Please RSVP to RSVP@oddballfilm.com or (415) 558-8117). Oddball Films, SF. More info here.
>>>>> SATURDAY JULY 25 <<<<<
>>> BERKELEY KITE FESTIVAL Two days of wild color flying above, "where the earth, wind, and sky combine to create an unequaled festival experience." The 30th anniversary festival (started by the High Line Kites shop) includes everything from candy drops and kite-making classes to food, music, and even a high-flying Rokakku Battle and  a dinner cruise on the Bay. (There's also a shuttle from Golden Gate Field for those on the SF side.) I love the part where huge coi fish and giant rainbow octopi take wing, swooping down upon the crowds. Sat/25 and Sun/26, 10am-6pm,free entrance (parking is $15, donated to local charities). Berkeley Marina. More info here.
>>> PEDALFEST 2015 A really cool bike expo for the whole family in downtown Oakland. Awesome stunts, rip-roaring' rodeo, New Belgium beer garden, kid's bike parade, unicycle basketball (!), a DIY stunt construction called the Whiskeydrome (drink liberally before entering, maybe), and much, much more. The Sisters of Perpetual Indulgence will even lead a round of drag bicycle bingo, you can just imagine. Sat/25, 11am-7pm, free. Jack London Square, Oakland. More info here.
>>> SF MIME TROUPE AT MCLAREN PARK If you missed the debut of this year's new Mime Troupe play "Freedomland" at Dolores Park, fear not — you can catch it here (and other spots around the bay as the summer progresses). A musical extravaganza that pointedly satirizes our militarized police state and the situation of black males in our society, "Freedomland" will have you equal parts laughing and thinking. Sat/25, 2pm, free. Jerry Garcia Amphitheatre, McLaren Park, SF. More info here. 
>>>>> SUNDAY JULY 26  <<<<<<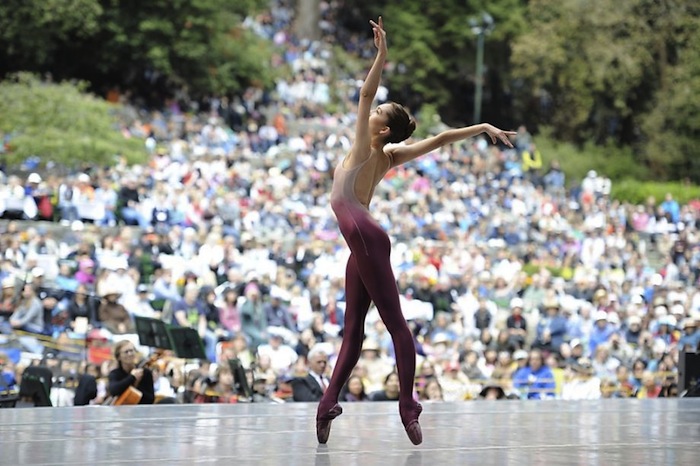 >>> SF BALLET AT STERN GROVE It's always a lovely day with the SF Ballet — the company will be out in full force (and hopefully sunshine) to perform selections set to Beethoven, Tchaikovsky, Bach and a few more modern composers (as well as traditional African music) — featuring choreography by George Balanchine, Christopher Wheeldon, and more. Sun/26, 2pm, free. Stern Grove, SF. More info here. 
>>> SAN FRANCISCO MARATHON Run, run for you life! (And health!) Just don't try to drive anywhere in the City. Sun/26, 5:30am, $50. All over SF. Registration and more details here. 
>>> UP YOUR ALLEY FAIR Formerly known as the Dore Alley Fair, this insanely packed (15,000+ attendees) leather and fetish street festival is "only for real players – and not for the faint of heart." It's Folsom Street Fairs dirtier, gayer little brother and it's got its eye on  you, boy. Sun/26, 11am-6:30pm, donation requested. Folsom Street and 9th Street, SF. More info here.
>>>>>MONDAY, JULY 27 <<<<<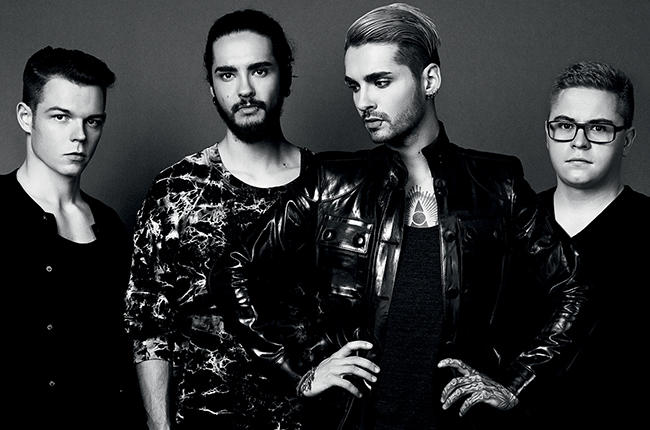 >>> TOKIO HOTEL The German former emo-pop-metal heartthrobs came back last year with a cute electro-pop sound (and waaaaaay less hair) that alienated some fans and could have spilled into awful if the accompanying makeover wasn't so sex-positive and fun. There's still some preening and emo attitude in there, don't worry, but you might not hear it above the screams. A true guilty pleasure. Mon/27, 7:30, $30. The Fillmore, SF. Tickets and more info here.  
>>> MOTOWN ON MONDAYS One of the absolute best weekly parties in the city — very chill and very dance-y. (And so successful it's now spawned Motown on Mondays nights nationwide.) Get down to Motown sounds from DJs Gordo Cabeza, Timoteo Gigante, The Captain, and weekly guests. Mon/27 and every Monday, 6pm-2am, $3 after 9pm. Madrone Art Bar, SF. More info here. 
>>> PERUVIAN INDEPENDENCE DAY AT MOCHICA RESTAURANT One of our finest (and most authentic) Peruvian spots is pouring the pisco on to celebrate Peruvian Independence Day. The Mochica folks are pairing pisco (oh-so-tasty Peruvian brandy) cocktails with signature drinks for some great discounts. Examples: pisco sours paired with cebiche for $12 rather than $25, pisco punch paired with beef heart anticuchos (skewers) for $12 instead of $23 — and even a premium pisco flight for $22. Yuuuummmm.  Mon/27, 5:30pm-10pm, reservations recommended. Mochica, SF. More info here.
BIG WEEK comes out every Tuesday. For event submissions and consideration, please go here. Follow Marke B on Twitter: @supermarke. Follow 48 Hills on Twitter: @48hills