… And two great birthday parties, for a young labor organization and a veteran community newspaper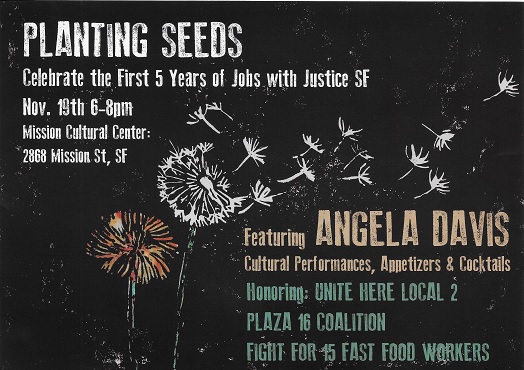 By Tim Redmond
NOVEMBER 9, 2015 – A weakened mayor, a revitalized Board of Supervisors, and elections a year away that could expand or devastate the shaky progressive majority on the board … all during a worsening housing crisis. That's the shape of San Francisco politics for the next 12 months.
The election of Sup. Aaron Peskin doesn't guarantee that every progressive measure anyone has dreamed about will pass and become law. On most votes, Sups. David Campos, John Avalos, Jane Kim, and Eric Mar are on the left flank, and Sup. Norman Yee – who represents one of the more conservative parts of town – is often with them, particularly on land-use issue like short-term rental. Yee supported Peskin and was at his victory party.
But that doesn't mean Yee, who will be up for re-election in November, will always be there.
And Lee, who is in his final term and probably will never run for anything else, can veto bills at will if his tech allies urge him to, with no impact on his future prospects. (If, as rumored, Hillary Clinton sees Lee as a possible ambassador to China, his decisions on short-term rentals and land use policy won't be an issue).
But here's what I think we can expect:
The short-term rentals issue will come back. There will be legislation that mandates only legally registered units can be listed on Airbnb or other sites, and it will get six votes.
Supporters of interim controls in the Mission will be back, asking for a delay in market-rate housing – and if the board doesn't do that (which requires a super-majority) every major project will get appealed to the board, and some of them won't get the six votes they need.
It would make sense for developers to accept reality here: 18 months is nothing, and a community stabilization plan might put more mandates on the people who are getting rich from building luxury condos. But if they keep fighting even reasonable controls, project after project could die on the table.
Here's the real change: If Campos doesn't want a project in the Mission, it won't get six votes. Peskin would never vote against his strong supporter. Same goes for Soma – if Jane Kim has a problem with the 5M Project, then the 5M project has a very big problem.
That's going to be the new calculus: As big projects move forward, they are going to need to get progressive support. Because pretty much anything major can be appealed to the board, and Peskin is a deep believer in district elections, and has consistently deferred to the wishes of his colleagues on their own turf.
In other words, even if the progressive bloc can't pass good things over a mayor veto, it can stop bad things.
That means we may see more situations like the Giants project: Kim demanded 40 percent affordable housing – and since the team realized she might be able to block the deal, they agreed.
Peskin's not against development, and he's not averse to cutting deals. But the deal is going to have to be a lot better than what the mayor has been proposing, for both commercial and residential development.
All of this plays out around the next big election, which is only 12 months away and has already started. The odd-numbered districts are up this fall, and they have typically been home to the most progressive board members: Campos in D9, Avalos in D11, Matt Gonzalez then Ross Mirkarimi in D5, Peskin in D3, Eric Mar in D1.
Now, of course, D5 is represented by Sup. London Breed, who votes more conservative. And D7 is Yee, who often sides with the progressives.
Still: there's no way a progressive majority survives without victories in three districts where incumbents are termed out – that's one, nine, and 11.
I have heard nobody seriously talking about going after Yee in D7. I know that tenant lawyer and organizer Dean Preston is looking at challenging Breed.
But the Richmond, the Mission/Bernal, and the Excelsior/Portola/Sunnyside/Vis Valley, are going to be the focus of very intense (and probably expensive) campaigns for seats without incumbents.
Meanwhile, Kim and Sup. Scott Wiener are running for state Senate, which will create a lot of political energy – and if Kim wins, the mayor will appoint her replacement. Given the abysmal record he's had appointing supervisors who then have to run for re-election, he will have to consider somebody who the progressives can accept – or we will have a repeat of the D3 campaign.
Oh, and let's not forget that in June, all of the seats on the Democratic
County Central Committee are up – and control of the local party is a top priority for progressives. So there will be well-organized, well-funded efforts from both the left and from the real-estate industry.
Isn't there an election for President of the United States, too?
For five years, Jobs with Justice has been on the cutting edge of linking the labor movement with the progressive community. The local chapter of the national organization has pushed for everything from the $15 minimum wage to anti-displacement and tech accountability to a retail workers bill of rights.
Basically, wherever the left and labor come together, JWJ is there.
There's a five-year anniversary celebration for the group Thursday/19, and it features the legendary Angela Davis. The event celebrates Unite Here Local 2, the Plaza 16 Coalition, and the Fast Food Workers Fight for 15.
6pm – 8pm, Mission Cultural Center, 2868 Mission. Get your tickets early at jwjsf.org.
And for 45 years, El Tecolote has been the voice of the Mission, the voice of Latino San Francisco, and one of the most important community newspapers in the city. It's founder and editor, Juan Gonzalez, has also been the chair of the Journalism Department at City College, training generations of the city's reporters and editors.
The bilingual newspaper will celebrate its birthday Friday/20, with music, food and drink, and a roast of Gonzalez, who has been such a part of the local media community for so long that it's hard to imagine local journalism without him.
It's free. 7pm, Grand Theater, 2665 Mission. See you there.