The first installment of my CASA story listed bills introduced in the state Legislature on December 3, most notably Scott Wiener's do-over of his failed SB 827, SB 50, that incorporate policies in the CASA Compact:
AB 4 (Chiu): Redevelopment 2.0

AB 68 and AB 69 (Ting): further loosen regulations on in-law units

SB 4 (McGuire and Beall): Limit local land use policies that restrict housing and encourage new housing near transit and job centers

SB 5 (McGuire and Beall): Redevelopment 2.0

SB 6 (Beall): Streamline housing production and penalize local planning that restricts production

SB 13 (Wieckowski): further loosen regulations on in-law units

SB 18 (Skinner): legal assistance for tenants

SB 50 (Wiener): upzoning near transit and job center

Plus AB 2065 (Ting): surplus public lands (introduced in 2018 and still live)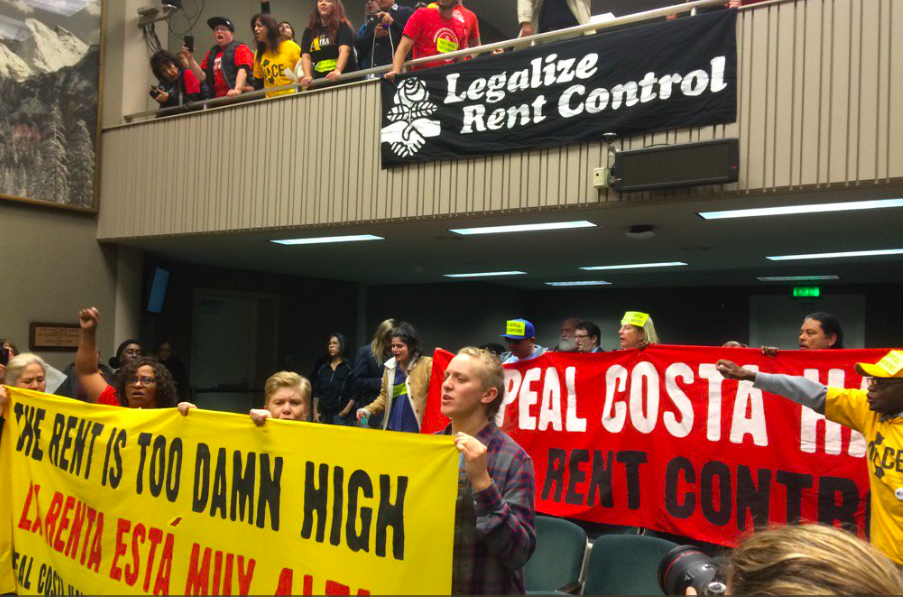 CASA is a project of the Metropolitan Transportation Commission. Item 3c on MTC's January 11 agenda, a memo from MTC Executive Director Steve Heminger titled "CASA Legislative Update," lists two more bills relevant to the policies in the CASA Compact: AB 36 (Bloom) "Affordable housing:  rental Prices," and ACA 1 (Aguiar-Curry) "Local Government financing: affordable housing and public infrastructure: voter approval."
AB 36 is a placeholder or "spot bill" that remains to be fleshed out. From the Legislative Counsel's Digest: "This bill…would express the Legislature's intent to enact legislation in order to stabilize rental prices and increase the availability of affordable rental housing."
ACA 1, by contrast, is full of specifics. The bill would amend the California Constitution by
authorizing a city, county or city and county [San Francisco] to levy a property tax that exceeds the 1 percent limit of the full cash value of the property in order to service bonds that fund public infrastructure or affordable housing, if the proposition proposing that tax is approved by 55 percent of the voters
lowering the voter-approval threshold from two-thirds to 55 percent for "a sales and use tax or transactions and use tax imposed in accordance with specified law or a parcel tax" levied by a local government to fund public infrastructure or affordable housing
lowering the voter-approval threshold from two-thirds to 55 percent for a city, county, or city and county to incur bonded indebtedness "exceeding in any year the income and revenue provided in that year in the form of general obligation bonds" for public infrastructure or affordable housing projects
Heminger's memo includes a table of "Bills Introduced Related to CASA to Date" that ties each measure to an Element in the CASA Compact.
| | |
| --- | --- |
| CASA Compact Element # | Related Bill(s) in print |
|   1.  Just Cause Eviction | |
|   2.  Rent Cap |   AB 36 (Bloom) [spot bill] |
|   3.  Legal Counsel [for tenants] |   SB 18 (Skinner) [spot bill] |
|   4.  ADUs [in-law units] |   AB 69 (Ting), SB 13 (Wieckowski) |
|   5. Minimum Zoning |   SB 50 (Wiener), SB 4 (McGuire) [spot bill] |
|   6.  Good Government | |
|   7. Streamlining [development approval] |   SB 6 (Beall/McGuire) spot bill |
|   8.  Public Lands [privatization of] | |
|   9.  Funding the Regional Housing      Enterprise |   SB 5 (Beall), AB 13 (Chiu), ACA 1 (Aguiar-Curry) |
|  10. Regional Housing Enterprise | |
In his memo, Heminger told the commission:
We anticipate that each of the ten items of the CASA Compact will eventually be reflected in some form prior to the initial February 22 bill introduction deadline, either as a substantive or a placeholder 'spot' bill….At this early stage, SB 50 (Wiener) is the only bill substantive enough to warrant taking a position. Staff anticipates returning to this committee in February with a recommendation on the bill.
He also noted that the State Senate—to be specific, Senate President Pro Tem Toni Atkins—had "recreated a stand-alone Housing Committee chaired by former [Metropolitan Transportation] Commissioner, Senator Scott Wiener."
Heminger did not note what I reported in the first installment of the CASA story: MTC paid Estolano LeSar Perez, the consultantcy co-owned by Atkins' wife, Jennifer LeSar, $450,000 to facilitate CASA's proceedings.
Nor did he mention that on the evening of  January 17, he would go before the Executive Board of the Association of Bay Area Governments asking that body to follow MTC's lead and authorize its president (in MTC's case, chair) to sign the CASA compact but not to approve the document itself.
It's notable that no legislator has introduced a bill to authorize the establishment of the new regionwide entity, the Regional Housing Enterprise. As envisioned in CASA Element 10, that agency would be authorized to levy new taxes, incur debt, buy and sell land, and impose zoning across the Bay Area. My hunch is that such a bill has been drafted, and that it will be introduced only after ABAG President and Napa County Supervisor David Rabbit has signed the compact.
That is, if he signs the compact. CASA's "legislative package" has come in for heavy criticism from equity advocates and from Livable California, a barely-year-old, Bay Area-based organization of elected and community leaders whose self-described mission is to "to support local community planning and decisionmaking with the goal of an equitable and sustainable future for California." Dubbing CASA a "coup," Livable California is organizing critics of the compact to attend the ABAG Executive Board's January 17 meeting and ask the board not to authorize its president to sign the document.
CASA's Bay Area Council connections
Many policies in the CASA Compact came from the Bay Area Council, the lobby for the region's biggest businesses. The compact reiterates key recommendations of the 2015 white paper published by the Bay Area Council Economic Institute, "A Roadmap for Resilience: The Bay Area Regional Economic Strategy":
cap development impact fees regionwide (Compact Elements #4, 6, 7)
weaken the California Environmental Act (Element #7)
penalize jurisdictions that don't meet their Regional Housing Need Allocations (Element #7)
create more "by right" zoning (Element #4)
institute a regional sales tax (Element # 9)
privatize public land (Element #8)
expedite the approval of Accessory Dwelling Units (granny flats) (Element #4)
expand the role of private actors in regional public policymaking (Element # 10)
transfer land use authority from cities and counties to a regional agency (Element #10)
disregard local costs of the services (public safety, public schools) and infrastructure (water, sewerage, parks) to support projected growth (entire compact)
The roadmap also recommended the creation of "a regional hearing body to approve housing development." Strictly speaking, no such proposal appears in the compact. But on May 16, 2018, Galante and another paid consultant, Enterprise Partners' Heather Hood, presented to the CASA Technical Committee a proposal for state legislation that would "change state law to give regions the power to…set standard[s] for all local jurisdictions" and authorize the creation of
a regional housing department to spread best practices to all jurisdictions, monitor implementation of policies, monitor the units for cities who need the service, staff a commission that oversees the policy and considers waivers, report all requests and determinations to State HCD
Sounds a lot like the Regional Housing Enterprise. The regional housing department would be staffed by Bay Area Metro (MTC/ABAG) "or third-party housing development economists experienced in market rate housing development finance and construction modeling." Developers, but not cities, would have the right to appeal their rulings to an appointed "Housing Impositions Appeals Board." Watch to see if legislation introduced by Scott Wiener, David Chiu, Nancy Skinner, Jerry Hill, or other members of the Bay Area Caucus authorizes the creation of a body with this sort of upfront regulatory authority.
The Bay Area Council's influence on CASA is unsurprising, given the Council's close ties with many CASA members. In 1993, Heminger came to MTC from BAC, where he'd spent three years as Vice President for Transportation Issues. He sat on the BACEI Steering Committee that oversaw the preparation of the Roadmap. He also sits on the BACEI Board. So does CASA co-chair Michael Covarrubias, who in 2015-2017 chaired the Council Board.
Other CASA members who sit on either the BAC Board, the BACEI Board, or both:
BART General Manager Grace Crunican, CEO
Koffi Bonner, COO of FivePoint, the megadeveloper spinoff of Lennar that's building San Francisco's troubled Shipyard project
San Francisco Mayor London Breed
Alameda County Supervisor Keith Carson
San Jose Mayor Sam Liccardo
Rebecca Prozan, Google chief of public affairs in California
Oakland Mayor Libby Schaaf
Bob Alvarado, executive officer of the Northern California Carpenters Regional Council and Chair of the California Transportation Commission
Tomiquia Moss, executive director and CEO, Hamilton Families and formerly Schaaf's chief of staff and SPUR Community Planning Policy Director
Clayton Councilmember and ABAG Executive Board member Julie Pierce
Jeremy Madsen, former executive Director of Greenbelt Alliance
The CASA Technical Committee's Production Working Group is co-chaired by TMG Partners Partner and Berkeley Zoning Adjustments Board member Denise Pinkston. She recently finished a two-year stint co-chairing the BAC Housing Committee, an assignment that, according to her LinkedIn page, involved drafting and lobbying state housing bills and briefing legislators and "executives." On CASA, Pinkston represents the Bay Area Council.
Not on the Roadmap but in the compact: tenant protections and affordable housing
Originated at the Bay Area Council, the CASA compact addresses issues that the BAC's Roadmap, obsessed with promoting development, conspicuously ignores: protecting tenants and providing affordable housing. How well it addresses those issues is another matter. Let's begin with CASA's treatment of tenants, the subject of the compact's first three Elements.
Element #1: "Just Cause Eviction Policy"
To "[e]nsure that all Bay Area tenants are protected from arbitrary evictions," a "regionwide policy" would "requir[e] landlords to cite specific 'just causes' (both fault and no-fault) for termination of tenancy, such a failure to pay rent or violation of lease terms." Landlords would be required "to provide relocation assistance for covered o-fault" evictions where tenants have been in occupancy for at least twelve months, "except in cases where the owner is moving into the unit." More restrictive local ordinances would still apply.
Element #2: "Emergency Rent Cap"
"[F]or an emergency period (fifteen years), no landlord should increase rent by more than CPI+5% in any year of tenancy." Dormitories, "ADUs [granny flats] on owner-occupied properties," and "affordable housing properties governed by regulatory agreements" would be exempt from the cap. The cap "should apply to the renter, not the unit." The proposal comes with a "landlord banking" provision:
If rent has declined or if landlord has not increased rents for several consecutive years, landlords should be able to bank those unused rent increases for 3-5 years. When drawing upon banked rent increases, landlords should not be allowed to increase rents more than 10-15% annually.
Landlords would also "be able to pass through a percentage of capital improvements and expenses to renters, not to exceed a fixed dollar amount per year." The law "would not preempt more restrictive local ordinances."
Compact Element #3: "Emergency Rent Assistance and Access to Legal Counsel"
Low-income tenants facing eviction would have access to emergency rent assistance. All tenants, regardless of income, would be eligible for free legal counsel. Eligibility guidelines would be established by the new Regional Housing Enterprise would establish eligibility guidelines and "identify, fund, and oversee local service providers (public or non-profit) to carry out the program."
In an email, Berkeley Housing Advisory Commissioner Tom Lord wrote:
We should expect that right to counsel will slow but ultimately not much prevent displacement. Implementation of this program should include built-in system for monitoring and measuring outcomes in the short term and longitudinally. In any event, this is a triage measure only
More broadly, Lord asked why should a just-cause eviction policy, emergency rent assistance, and access to legal counsel be limited to the Bay Area? And why should any of these be tethered to a new "regional housing entity"?
Other elements in the compact seek legislation for policies to be implemented throughout California, as reflected in the bills introduced in the Legislature on December 3 that are listed above. To date, however, nobody has introduced legislation that would specifically create a just cause eviction policy, an emergency rent assistance program, or tenants' access to legal counsel, whether targeted at our region or the whole state.
In a letter dated December 19, addressed to MTC Commissioner and Union City Mayor Carol Dutra-Vernaci, and published in the Berkeley Daily Planet, Berkeley Mayor Jesse Arreguín applauded in principle the establishment of a region-wide just cause eviction policy, a regional rent cap, and regional funding for the legal representation of tenants but raised cogent questions about the compact's rendering of these policies. None of the three Elements, he noted, clearly indicate how their provisions are going to be enforced.
Here are Arreguín's specific concerns:
Element # 1: Just Cause Eviction Policy

Allowing no-fault evictions for cases of when a unit is "unsafe for habitation" or for "demolition/substantial rehabilitation" creates an incentive for property owners to leave units in neglect in order to evict tenants and charge higher rental prices. Even in Berkeley, which has strong eviction and rent controls, we have seen this occur. If a property is red-tagged and is unsafe for habitation, that is a reasonable cause for eviction. However, if a unit is in disrepair and needs to be renovated, should that be grounds for permanent eviction, or should the tenant be entitled to relocation protections?
Exempting "single owner-occupied residences including when the owner-occupant rents or leases 2 units" is problematic in cases where owners rent rooms in a home or have ADUs on the property. While owner-occupied properties are different from large multi-unit buildings, since the tenant resides close to the owner, in many cities many of the units are in smaller properties, including owner-occupied properties. This exemption would leave a significant number of renters without eviction protections. While owner-move in evictions should be allowed, the Compact specifies no minimum requirement for how long the property must be occupied by the owner in order to maintain the exemption from eviction controls.
It is unclear what the rationale is for denying eviction protections to tenants unless they have lived in their rental for at least twelve months.

Element # 2: Emergency Rent Cap 

I think a regional rent cap is an important protection in those cities that do not have rent control policies. However, setting the rent cap at CPI + 5% may result in a large rent increase when the initial rent is set at market [rate]. For tenants on fixed incomes or who cannot afford the rising cost of living, this may result in displacement. A rent cap of a fixed percentage or at CPI is a more reasonable policy. 

Element # 3: Emergency Rent Assistance and Right to Legal Counsel 

Regional funding for legal representation is essential to balance the scales between tenants and landlords and to prevent unfair displacement. However, I believe that funding for representation should not be limited to just defense against eviction but should also fund enforcement of the other protection elements: just cause and enforcement of rent caps, in addition to enforcement of other state and local landlord/tenant laws. This is an important amendment to ensure the enforceability of Compact Elements # 1 and # 2. 
I ran Element #2 by Stephen Barton, a nationally recognized expert on housing and a former director of housing for the city of Berkeley. Barton's initial take: "CASA certainly goes easy on landlords." He continued:
I have very mixed feelings about loose rent limits like 10% per year or the Terner Center CPI + 5%, especially when combined with vacancy decontrol. The big landlords don't mind this at all, because they normally raise the rent every year to what the market will bear, monitoring the tenant and prospective tenant response to the increases as they go along. So they get their 50% increases gradually, over 5 or 10 years.

Major increases are most likely after sale of a property by a good landlord, someone who wants stable tenants and a quiet life with a decent rather than maximum income and so keeps the rents down on current tenants, usually a landlord on the smaller side (under 50 units?). After they sell at a high price the new owner often needs higher rents to be profitable or just has a different business plan and wants to maximize revenue.

So it's true that keeping the increases to a maximum of 10% per year would at least enable those affected tenants to hang in there longer while looking for another place, but ultimately it's not going to keep them from being displaced, because the rent will continue to increase at 10% per year until reaching the maximum.

Extending the relocation payment requirement from no-cause evictions to also cover tenants who have received high rent increases, like over 15% in a two-year period might be a useful addition.
The "best" policy, Barton wrote, would "obviously" be rent control, and he
worr[ies] that having an "emergency rent increase cap"…will just give people the illusion of doing something and undercut efforts to extend rent stabilization and get something useful out of the promises of Costa-Hawkins "reform" that were used to undermine Prop 10.  
In fact, the tenants advocates on the CASA Technical Committee wanted the compact to include a proposal for rent control and rent stabilization. Their recommendation was voted down—no surprise, given CASA's landlord-developer-friendly makeup.
"Bay Area Equity Advocates" make their case
In January 2018, the CASA Steering Committee received a letter urging it to "Adopt Goals and Equity-Based Guiding Principles for the CASA Process," signed by forty-four organizations calling themselves "Bay Area Equity Advocates." Nine of the signatories had a representative on CASA:
California Housing Partnership, Matt Schwartz
EAH Housing, Mary Murtagh
Faith in Action Bay Area/People Acting in Community Together/PICO Bay Area, Jennifer Martinez
Non-Profit Housing Association of Northern California (NPH), Amie Fishman
Tenants Together, Aimee Inglis
Transform, Stuart Cohen
Working Partnerships USA, Derecka Mehrens
Other signers included the Alliance of Californians for Community Empowerment, the Asian Pacific Environmental Network, Causa Justa: Just Cause, the Council of Community Housing Organizations, East Bay Housing Organizations, Enterprise Community Partners, the Northern California Land Trust, Policy Link, Public Advocates, Urban Habitat, and tenants unions of Oakland, San Francisco, and Santa Cruz.
The letter focused on the "extreme housing affordability crisis" confronting the Bay Area, manifest in "[high] housing costs, low wage, rapid gentrification, evictions, and the legacy of exclusionary practices like redlining [that] continue to marginalize low-income communities and communities of color, displacing families, limiting access to high-opportunity areas and driving the Bay Area into further socio-economic stratification." It pointed out that displacement harms the environment, as "low-income transit riders" are forced "to switch to polluting cars," add[ing] to congestion and impossible commutes." Those long-distance commutes also reflect "the lack of affordable housing near low-wage job in most suburban job centers." Displacement also "creates homelessness, adds to health disparities, and destroys community networks." The result is "a new era of regional resegregation and impeding fair housing."
The bulk of the letter laid out the group's recommendations:
(1) Adopt Measurable Goals for Each "P" that Accurately Reflect the Scale of Our Housing Crisis. The metrics, supported by referenced academic, philanthropic, and government reports:

Protection: Protect the 450,000 low-income renter households at risk of displacement by adopting incentives and requirement and generating $400 million/year
Preservation: Take over 25,500 homes occupied by and affordable to low-income renter off the speculative market and preserve over 11,100 expiring deed-restricted units by adopting incentives and requirements and generating $500 million/year for 10 years.
Production: Meet the region's need for 13,000 new affordable homes per year by adopting incentive and requirements and closing the $1.4 billion yearly housing gap.

(2) Adopt Overarching Principles to Guide CASA's Policy Solutions

Solutions to advance racial equity
Solutions benefit, and do not harm low-income communities
Solutions are appropriately tailoredby geography to reflect the varying experiences of low-income residents in different communities.
Solutions engage disadvantaged communities and advance community priorities.
Solutions are actionable.
How do the compact's allocations line up with the ones proposed by the equity advocates? For tenant protections, they fall short. The letter asks for $400 million a year; the compact designates up to 10 percent of an annual $2.5 billion budget, or $250 million a year, for tenant protection services.
For affordable housing, the compact seems more generous. The January letter asked for $1.4 billion a year to produce new affordable housing; the compact designates a minimum sixty percent or $1.5 billion a year for "subsidized housing production" and up to 20 percent or $500 million a year for "affordable housing."
But the compact's allocations are slippery. Besides the ambiguous "up to"s, what exactly is meant by "subsidized housing"? How does that differ from "affordable housing"? And what does "affordable housing" itself mean? Affordable to whom? 
California public officials typically define affordable housing as housing that's available to households earning up to 80 percent of the Area Median Income or AMI. The Bay Area has several HUD-defined "Fair Market Rent Areas." In the Area that encompasses Marin, San Francisco, and San Mateo Counties, the 2018 definition of 80 percent AMI for a four-person household was an annual income of $94,700.
As Causa Justa: Just Cause and other Bay Area equity activists have observed, in disadvantaged neighborhoods in our region, few households have an annual income of $94,700. For that reason, says Calvin Welch, the dean of affordable housing advocacy in San Francisco, he and his colleagues "push for 'neighborhood affordability,' not affordability defined in regional AMI."
The CASA compact draws no such distinctions: it never acknowledges the discrepancy between the official definition of affordability and the facts on the ground in the Bay Area. And while the Compact asserts the need to "build more housing at all income levels while protecting tenant and low-income communities from unjust evictions and displacement" (Preamble), the only income levels it explicitly supports in connection with housing production are those above 80 percent AMI (Element #7).
This is part two of a series on CASA.