PRIDE Heeeeeeey, Happy GIANT PRODE, everybody! Party Radar's been on a wee hiatus while I finish this crazy book, sorry. I miss getting nuts on the dance floor and/or bathroom stall with you! The book is a history of protest in the US for young people, which, surprise, happens to also tie into this year's big Pride celebration theme, on the 50th anniversary of Stonewall—Generations of Resistance.
Yes, we still live in a time of online #resistance, which is fine. But honestly, we need to get out of the group chats and into the streets. There are trans people dying from lack of adequate treatment at the border (and being murdered everywhere else, it seems), and queer people without a home are being actually swept out of sight. Queer youth still face tremendous challenges. And let's not even get into the mess that is national politics, ew.
And partying can be revolutionary, too. As Melissa Hawkins' awesome recent show of queer club photography from the 1980s and '90s at the GLBT History Museum pointed out, AIDS activism was based in nightclubs and bars, in communicating face to face, in meeting one another, dancing together, and making a plan.
So, to help out with that (and any social anxiety), here's a wee guide to the massive amounts of parties happening, to help you navigate the rainbow-tutu'd masses and wash up on the proper rainbow shores.
Let's get this out of the way in the beginning: I'm part of the Stud Collective, which owns the 53-year-old nightclub, and I love being transparent about it! You will see some Stud events in here because we are a chill place to come party. 🙂 But I love all people and embrace all people, so this is really a rundown of all parties I would heartily recommend.
BUT FIRST the main run-down of must-dos for first-timers:
The National Queer Arts Festival and Frameline Film Festival have tons of stuff going on.
Go see my cute friend Adam Tendler play amazing experimental music in Grace Cathedral on Friday.
Friday is the Trans March. 
Saturday is the Dyke March.
Sunday is the big Pride parade and party.
Monday is taquitos and Netflix.
PRIDE PARTIES!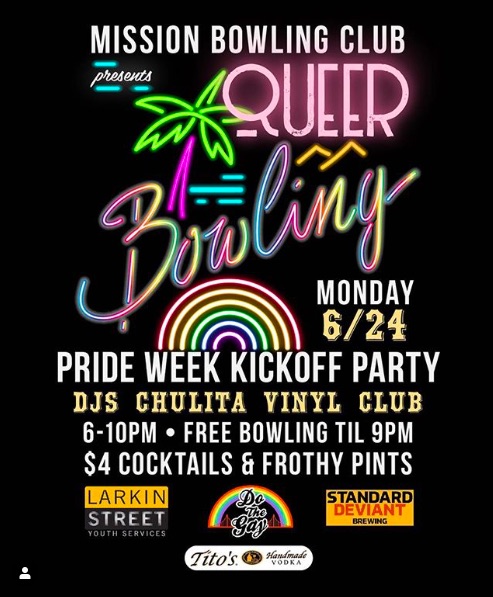 > MONDAY 6/24 <
QUEER BOWLING This monthly charitable roll in the lanes is date-night perfection (and single-night score-heavy). It's also just plain fun to spare. This month features the all-vinyl awesomeness of Chulita Vinyl Club, plus cheap themed drinks and a great menu. 6pm-10pm, free. Mission Bowling Club, SF. More info here.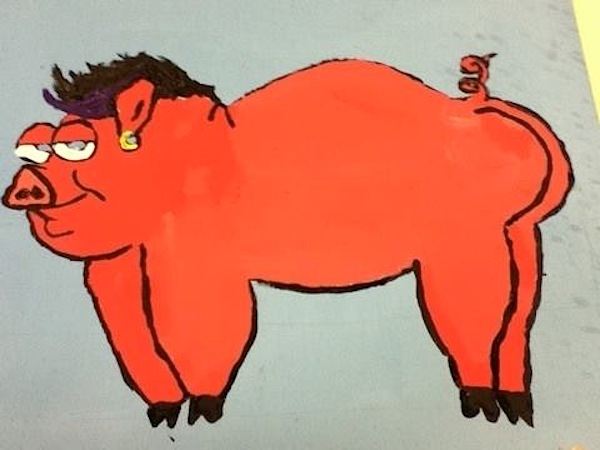 > WEDNESDAY 6/26 <
PULLIN' PORK FOR  PRIDE 48 Hills and the Harvey Milk Democratic Club team up for our annual Pride kick-off! Tasty BBQ (yes there are veggie options) and a beer bust to raise funds for these essential local orgs 🙂 Also, pop up drag numbers, some great prizes, and more. 6pm-9pm, free entry, you can buy a plate and beer bust for cheap! Pilsner Inn, SF. More info here.  
SISTER ACT SINGALONG PRIDE MASS I'm not religious, but I am thankful for this, from the folks who brought us the Beyoncé Mass: "We'll kick it off with a mini-Pride parade and sing all of your favorite Sister Act songs— from "Hail Holy Queen" to "Joyful, Joyful" — led by our #BeyonceMass soloist Logan Williams. And most importantly, we'll celebrate that we are all made in the likeness of God with a special Pride message from pastor and activist Brandan Robertson. Oh, and don't be afraid to wear your fiercest outfit!" 6:30pm-7:30pm, free. Grace Cathedral, SF. More info here. 
BONDAGE-A-GO-GO PERVERT'S PRIDE "At BaGG we are not only kinky. We are Trans. We are Queer. We are lesbian, gay, bisexual, two-spirit, polyamorous, monogamous, pan sexual, asexual, agender, demisexual, demiromantic, sapiosexual, leather daddies, femmes, switches, agender, asexual, bears, otters, unicorns and more and some times we are everything and nothing at the same time. We are Bondage-a-Go-Go." (There will be dancing and fun!) 9:30pm-2:30am, $10-$20. Cat Club, SF. More info here.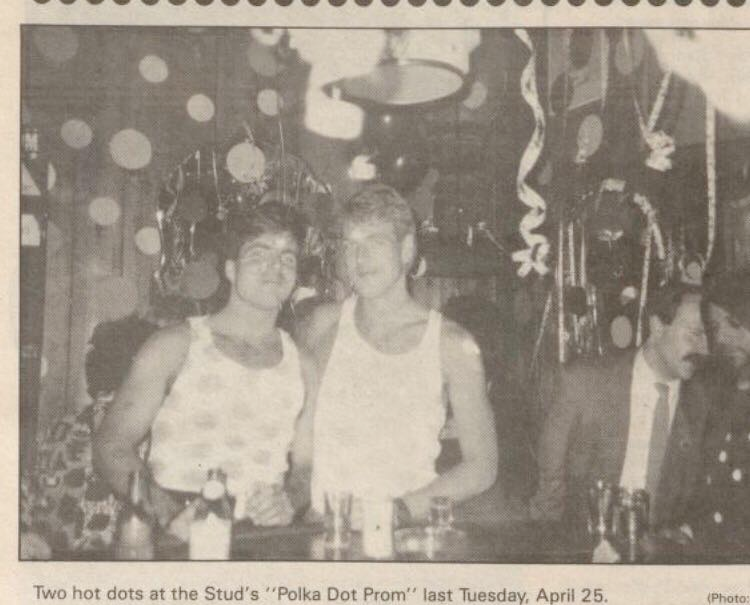 > THURSDAY 6/27 <
POLKA DOT PROM An '80s club tradition returns, with fab retro vibes galore. The Stud used to hold this annual fun-speckled party back in the day (legend was they would close the doors and carry on all night). I'll be DJing some underground '80s classics along with a bunch of amazing folks, including an original Polka Dot Prom DJ, Junkyard! Plus you can score a reprint of an original Stud button. 8pm-2am, $5 before 10pm. The Stud, SF. More info here. 
MR. S. 40TH ANNIVERSARY Oh my goodness, hot folks in leather. Celebrate the big 4-0 of this groundbreaking kink emporium with DJ Fawks and friends. 9pm-2am, free. Oasis, SF. More info here. 
THE TUBESTEAK CONNECTION DJ Bus Station John is a treasure, rescuing authentic disco and bathhouse vibes from the vintage recesses of our collective soul. His long-running weekly club is a must for visitors and (ir)regulars alike—an old-school cruising, cell phone-free event (were they even invented when she started this party?) 10pm-2am, $5. Aunt Charlie's Lounge, SF. 
FOXES Absolutely love it when still-mourned dyke bar the Lexington Club comes back to life at Virgil's, with former staff and patrons on deck. This Pride kick-off takeover brings together the best of the lesbian scene with a pop-up patio bar, DJs, beloved hosts and more. 9pm-2am, $5. Virgil's, SF. More info here.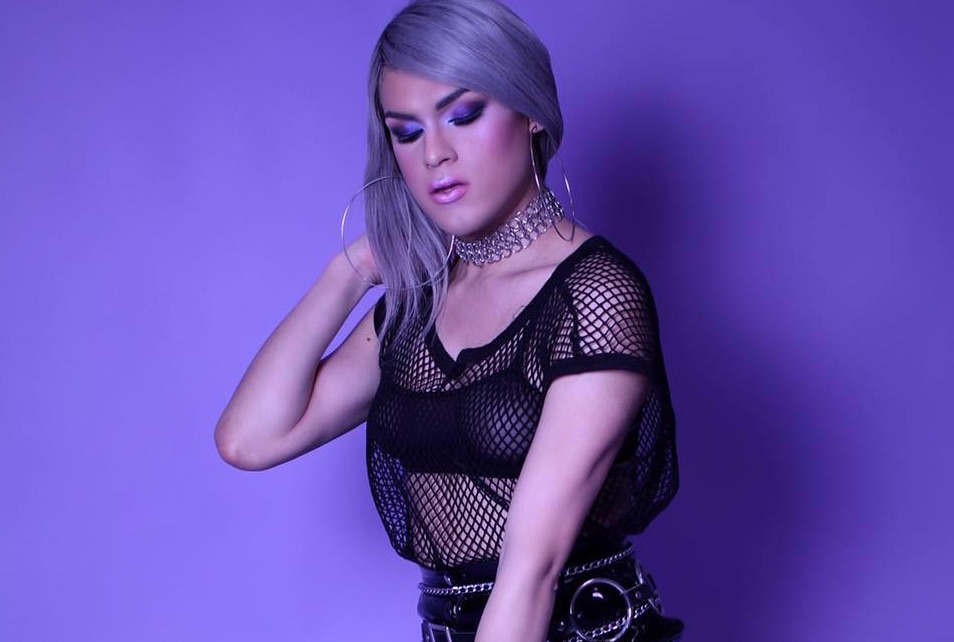 > FRIDAY 6/28 <
BUSTIN' OUT 14!!! PARTY AGANST THE PRISON-INDUSTRIAL COMPLEX An annual post-Trans March tradition, this rad event from the TGI Justice Project features DJs, food, and festive extras to raise money to help our trans family behind bars. 7pm-2am, donation requested. El Rio and Virgil's, SF. More info here. 
T4T One of my favorite DJs, CarrieOnDisco, plays at this post-Trans March party at Jolene's—and if you haven't checked out the new Jolene's yet, this is your time! 9pm-2am, $5. Jolene's, SF. More info here. 
STEAM A bathhouse themed party complete with Power Shower™ go-gos, professional massages, and the brilliantly cosmic techno of SF's beloved Bézier. Hottt. 9pm-2am, $10. Powerhouse, SF. More info here. 
POUND PUPPY Arooooo! Your dogs will be barking after dancing all night at this pup-alar party, with Berlin's Doc Sleep and NYC's Physical Therapy bringing you some deep techno dish. 10pm-4am, $20. The  Stud, SF. More info here.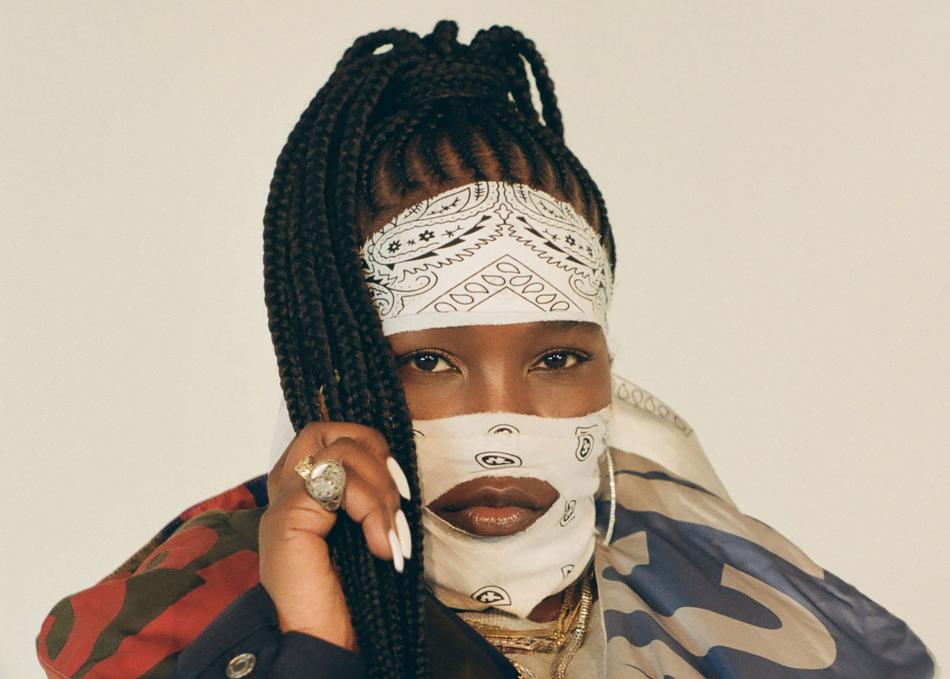 SWAGGER LIKE US PRIDE Quite possibly the most fantastic queer hip-hop party on the planet goes big, filling 1015 Folsom with drop-dead looks and beats, courtesy of rapper-singer special guest Leikeli47, who will whip the dance floor runway into a frenzy—along with a slew of DJs like Juliana Huxtable and Jasmine Infiniti. 9pm-3am, $40. 1015 Folsom, SF. More info here. 
ELECTROLUXX PRIDE Local art and cuties in neon leggings as far as the eye can see at this party favorite. One of the best DJs in the world, Detroit's Holographic, is playing, too. Online tix are sold out so rush that door. 9pm-4am, $30-$40. Public Works, SF. More info here. 
CLUB LONELY Two of our city's best-kept secrets—house rave Club Lonely and insanely talented DJ Carlos Souffront—come together for a Pride "blowout." 10pm-4am, $10. Club OMG, SF. More info here.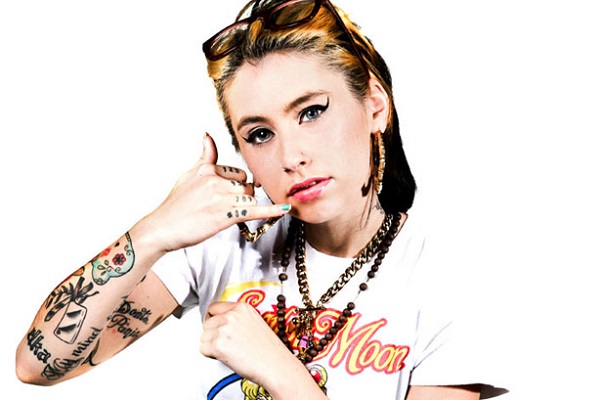 > SATURDAY 6/29 <
FAKE & GAY  This bananas party takes to DNA Lounge to present Oakland's infamous Kreayshawn for an 18+ jam. Get there, youths! 9pm-3am, $15-$20, 18+. DNA Lounge, SF. More info here. 
PINK BLOCK Not quite the radical political uprising the name suggests, but a revolutionary takeover of the streets nonetheless. Hercules and Love Affair and Poolside headline, and the wonderful Polyglamorous hosts, but there are literally 100 other performers, DJs, and all-around hotties involved in this massive, and massively cute-looking, event. Noon-9pm, $20-$60. Outside Great Northern, SF. More info here.  
DAD TO THE BONE The zaddy of all DJ dads, New Orleans' Mark Louque, pops in for this ruff and tender affair, combining the unleashed power of the DAD (Dudes and Disco) and the Fog City Pup Pack. 9pm-2am, $10-$20. Underground SF. More info here.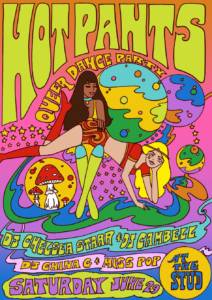 HOT PANTS The legendary lez party returns! With DJs Chelsea Starr, Campbell, China G, and Miss Pop—plus all the most azz-mazing outfits. 8:30pm-3am, $10 advance. The Stud, SF. More info here.  
WILD THINGS One of the biggest-yet-still-cool parties of the weekend will pack the Public Works with femme power out the wazoo. featuring DJ Kittens and tons of local talent. 7pm-late, $35. Public Works, SF. More info here. 
GLAMAMORE'S PINK SATURDAY NUTZ The grand doyenne of SF drag, Glamamore, is hosting a go-go contest on the eve of Pride: Just go with it, it's Glamamore. 9pm-2am, $5. Powerhouse, SF. More info here. 
PITCHERS & CATCHERS A slew of eye-popping drag shows at the Pilsner, plus beer! DJ Sergio homes in. 6pm-10pm, free. Pilsner Inn, SF. More info here. 
SUI GENERIS SIP 'N SHOP You know you need to look good for Pride. Sip complimentary champagne and shop the packed racks (and a discount!) of this super-cool consignment shop in the Castro. noon-4pm, free. Sui Generis, SF. More info here.  
> SUNDAY 6/30 <
HARD FRENCH <3 LOS HOMOS Our #1 queer soul party always bonkers it up for its Pride lineup, and could anything be more lovely than synthpop legends Book of Love? Oh yes, there's a classic soul block party outside all day, too, plus, just, everything. 3pm-11pm, $35. Mezzanine, SF. More info here. 
JUANITA MORE! PRIDE PARTY Her face is everywhere this year! Drag goddess Juanita More is claiming her throne as the Party Lady—proof comes in her always packed and scenic annual charitable party, this time around with DJs Bobby Viteritti, Kim Anh, Steve Fabus, Nonsuit, and performances galore. Noon-7pm, $50. Jones, SF. More info here. 
MIGHTY REAL Two amazing parties all day/night from this soulful house crew. First, spend the day poolside at the Phoenix dancing to diva CeCe Peniston and DJ David Harness. (More info here.) Then high tail it over Great Northern for the afterparty with deep house legend Kerri Chandler. (More info here.) Beauty!
QUEERLY BELOVED Courtney Trouble's truly beloved Pride patio party is back, with hip-hoppy happiness from DJs Gangsta Boo, Micahtron, and Mimi Tempestt. 3pm-9pm, $20. El Rio, SF. More info here. 
DISCO DADDY If you are looking for that "authentic disco" Pride feeling, you will find it here: "A 7-Hour Tres-Gay Holiday Disco, Hi-NRG, & R&B Marathon W/ DJ Bus Station John. The 'Happy Ending' you requested!" 7pm-2am, $10. SF Eagle. More info here.   
HONEY SOUNDSYSTEM PRIDE Not only will this annual bananas-good party take over one of the most exquisitely cool (secret-ish) venues the city, it also promises some of the most interesting contemporary dance music. Oh, and hot new friends. Brooklyn's DJ Jubilee headlines with some bass boom. And there's a spacey ambient room featuring actual techno legend Spacetime Continuuum. Goooooo. 10pm-3am, $25-$35. Social Hall, SF. More info here.

STUD PRIDE We got parties! OK, nine parties to be exact, all coming together in one giant party to show off their best bits. Drink specials, wild times, and a special performance by Gia Gunn. 2pm-2am, $15. The Stud, SF. More info here.