This was a truly unsettling year, from the election of Donald Trump and the resurgence of white supremacist movements to the sudden death of Mayor Ed Lee and the ongoing crisis of homelessness and displacement  — a time when independent, local media proved itself more essential than ever. (Unfortunately, we continued to lose voices on the scene when we needed them most.)
With your support, 48 Hills was on the streets and inside City Hall, telling the stories of the Bay Area that mattered. One of the things we're proudest of this year was expanding our arts and culture coverage, with film reviews, theater reviews, music coverage, arts picks, and even more of our Party Radar nightlife column. We also increased our international coverage, drawing in readers from around the world.
Below is a selection of our most-read stories of 2017. Thank you to our 48 Hills community for reading, and for your support.
Please donate so we can continue to grow in 2018!     
NOTHING LIKE THIS HAS EVER HAPPENED BEFORE
Donald Trump was declared President of the United States, and no one was having it. The Women's March brought the communal heat to San Francisco's street on a cold, windy day — and, as part of the national happening, was the largest political protest in this country's history. Read more. 
SF SENDS THE WHITE SUPREMACISTS PACKING
The resilience of SF's resistance network and history shone through on August 26. Tens of thousands of protestors, from the Marina to the Castro, took to the streets to protest a "free speech" rally by a group associated with white supremacists. It was glorious — also horrifying that we even had to be there. Read more.
SHERIFF EVICTS 100-YEAR-OLD + IRIS CANADA DIES ONE MONTH AFTER HER EVICTION
The tragic saga of Iris Canada, the 100-year-old Lower Haight tenant who was evicted from her home — and then passed away a month later — galvanized housing activists and made national news. We covered Iris' story in-depth, in articles like these and in our special Dialogues for Life Project about the case. Read more here and here.
DISPATCHES FROM THE GARCIA ZARATE TRIAL
Every day for several weeks, Tim Redmond and Sana Saleem attended the trial that captured the nation's attention — not least that of the rabid rightwing-o-sphere– and ultimately led to the acquittal of Jose Ines Garcia Zarate on charges of killing Kate Steinle. You can read the full dispatches here.
TEARS (AND BUBBLY) FOR BUBBLES
One of San Francisco's most recognizable free spirits, and a nightlife legend, was shot to death point blank in the Tenderloin. We reported from the wake/party on the streets celebrating Bubbles' life. Read more.
SAN FRANCISCO BRACES FOR THE POSSIBILITY OF IMMIGRATION RAIDS
Of all the horrible possibilities of the unhinged Trump administration, the threat of armed agents of the government hauling away our neighbors was one that affected the Bay Area mightily. After President Trump signed an executive order aiming to block federal funding to sanctuary cities, we reported from a legal training to help understand what ICE could and couldn't do. Read more.
The GHOST SHIP FIRE, ONE YEAR LATER
As the anniversary of the Bay Area's worst nightlife tragedy neared, we interviewed Andy Kershaw, the husband of victim Amanda Allen, who updated us on the case and opened up about how it had affected him. Read more.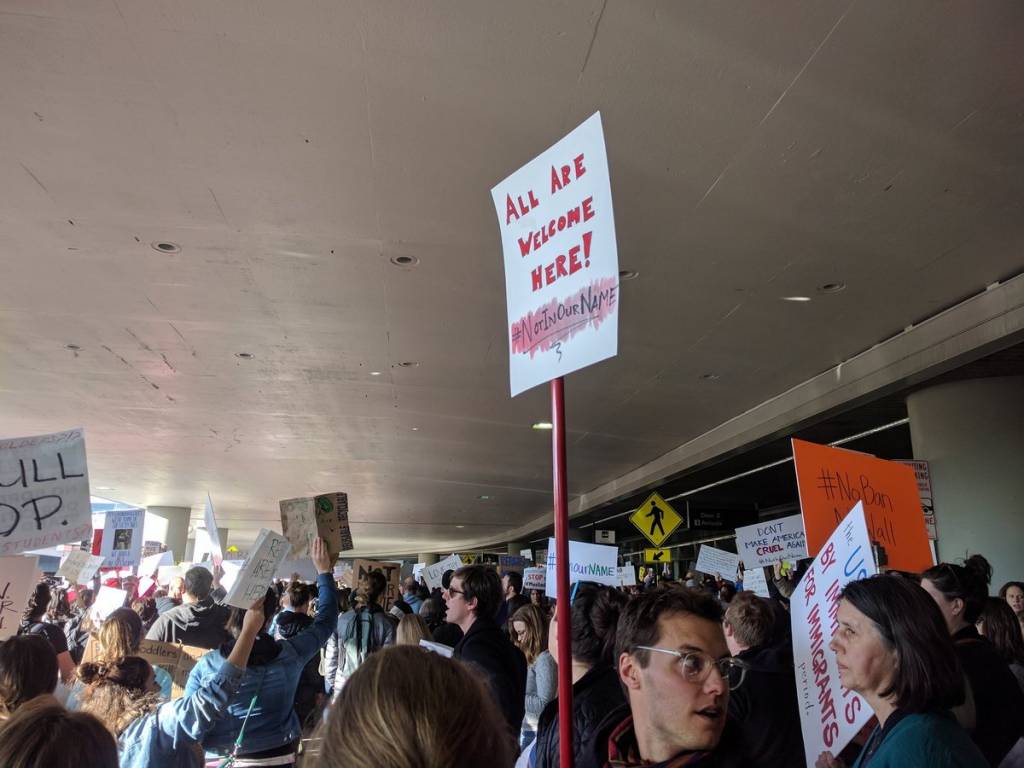 INTERNATIONAL ARRIVALS AT SFO SHUT DOWN IN PROTEST OF TRUMP'S MUSLIM BAN
Trump's odious Muslim travel ban inspired hundreds of protestors to shut down San Francisco International Airport, until a court blocked its imposition. Read more.   
VIDEO SEEKS TO SELL 'FABULOUS' UNITS CLEARED BY EVICTION
When a shady real estate agency tried to pink-wash its flip of eviction-marred properties by hiring a drag queen to make a cutesy video advertisement, we called it out. Read more. 
BAY GUARDIAN BEST OF THE BAY 2017 
The 42nd installment of Best of the Bay — and the second that 48 Hills hosted after the Bay Guardian stopped publishing weekly in print — was a wonderful compilation of beloved SF institutions and new businesses that proved we still live in the best place on earth. Read more.
INSIDE THE YIMBY CONFERENCE
The push for unchecked, market-rate development put on a youthful, tech-ready face at an Oakland conference called Yimbytown 2017. We were there to report on the civil discussion on the surface — and the nastiness behind the scenes. Read more.
LEE'S DEATH SHOCKS THE CITY
Tim Redmond reported live from City Hall as stunned officials gathered to mourn the mayor after his sudden passing and figure out next steps. Read more.