ARTS FORECAST Right before Thanksgiving came the infuriating news that, after 16 years, SF's largest woman-owned independent music venue, Mezzanine, was planning to close next year due to landlord greed. According to Mezzanine's Deborah Jackson, who also heads a rare all-women talent-buying team, the landlord is refusing to negotiate a new lease, instead looking to turn the space into a commercial property at a 600% rent increase, which is absurd. 
Mezzanine came along in the bright and spangly 2000s, when the nightlife and music scene  boosted shiny electronics and bands with a lot of letter z's in their name. With its arrival also came the transformation of Mint Plaza into a fancier place than people were used to in that area of town, although Mezzanine managed to retain a somewhat subversive vibe. The club was no trendy bandwagon-hopper: Hip-hop legends and goofy upstarts, No Wave rockers (I saw Lydia Lunch there), huge bands looking for intimate dates (LCD Soundsytem), oddball Euro metal and Finnish choirs, local game-changers (Honey Soundsystem's major breakthrough party with Hercules and Love Affair, Hard French's bananas Pride parties) all found a home there. 
As music journalist Sam Lefebvre pointed out in a recent East Bay Express cover story, most of our music venues, from the venerable Slim's to the spanking new August Hall, are now programmed by mega-conglomerates (who also own major ticketing sites, too). Independent venues like Mezzanine—and the Chapel, Amnesia, DNA Lounge, the Independent, Thee Parkside, Neck of the Woods, Bottom of the Hill, The Riptide, Swedish American, Boom Boom Room, and a few more—who don't tread this hamster wheel are dwindling. Please support them!
UPCOMING ARTS EVENTS
ONGOING STAGE TAYLOR MAC'S HOLIDAY SAUCE "The most iconoclastic Christmas show you'll ever see!" is what one audience member explained on the way out, a wonderful recommendation for drag/club/performance art phenomenon Taylor Mac, an NYC legend taking over the Curran Theatre for one more week with a cheeky, bombastic, affecting holiday extravaganza of extraordinary music, talented friends, fabulous costumes, and lots of show. Through December 1. Various times, $29-$115. Currant Theatre, SF. More info here. 
ONGOING MUSIC RECOMBINANT FESTIVAL Gas, Coil, Rrose, Demdike Stare, Aïsha Devi, Ulf Langheinrich, Hiro Kone, Electric Indigo … if these names cause a dark-electronic shiver of musical memory to dance down your spine, then you will want to be a part of this weeklong experimental tubes-and-wires behemoth from recombinant Media Labs. Through December 2. Gray Area, SF. More info here. 
TUE/27 TALK STAIRWAY WALKS IN SAN FRANCISCO "Alex Lemberg and his husband, Kevin Cureton, traversed from Telegraph Hill to Mount Davidson, Sutro Baths to Hunters Point, on a journey to find every last public staircase in San Francisco. From breathtaking to banal, from easy to exhausting, Alex and Kevin walked up and/or down every single one. Building on top of the works of Adah Bakalinsky and countless other San Francisco explorers, their photographs will take you on a grand tour of the many hills of San Francisco, home to some of the most interesting stories and gorgeous vistas around." 7pm-9pm, $10. Congregation Sherith Israel, SF. More info here. 

TUE/27 FORUM STATE OF EMERGENCY: VIOLENCE AGAINST TRANSWOMEN "Join us for a timely discussion with leading voices from the transgender community on the problem of violence against transgender people; moderated by Michelle Meow, host of "The Michelle Meow Show" and former president of SF Pride. Featuring Ellie Hearns, Diamond Collier, and Toni-Michelle Williams. 6:30pm, free. Commonwealth Club, SF. More info here. 
TUE/27 EVENT 40 YEARS: REMEMBERING HARVEY MILK & GEORGE MOSCONE "In November of 1978, bookending the Thanksgiving holiday, the city of San Francisco and, it might be said, the world was changed forever. The double horror of the tragedy at Jonestown, followed by the slaying of Harvey Milk and George Moscone was a crushing trauma to the heart and soul of San Francisco, and yet in that darkness we rose together in candlelight not only to remember those we had lost but to strengthen and galvanize ourselves to give them voice to continue their fight and and vision for the future. the Harvey Milk LGBTQ Democratic Club invites all to join us in quiet reflection from those who knew these great advocates of social justice at Harvey Milk Plaza. Following this, we will walk in candlelight to the steps of City Hall where current community leadership will echo their vision, just as those who were there did that warm November night in 1978. Performances will offered by the San Francisco Gay Men's Chorus and members of the San Francisco Opera Company." 7pm-10pm, free. Harvey Milk Plaza, SF. More info here. 
WED/28 MUSIC LISTENING PARTY WITH LAURIE ANDERSON Hell yes, I will go to hear a Laurie Anderson DJ set! "Step into the SFJAZZ 'living room' and hear artists and tastemakers spinning their favorite recordings while in conversation with SFJAZZ Founder and Executive Artistic Director Randall Kline. Listening Parties offer listeners the chance to get behind-the-scenes and hear about music from the artist's perspective. One of America's most renowned and daring creative pioneers, Laurie Anderson is best known for her music, multimedia presentations and innovative use of technology." 7:30pm, $15. SFJAZZ Miner Auditorium. More info here. 
THU/29 FILM GIFT "Inspired by Lewis Hyde's beloved book, The Gift: Creativity and the Artist in the Modern World, GIFT is a richly cinematic film that explores the parallels between artists' work and a gift economy. Director, producer and writer Robin McKenna artfully interweaves the stories of a young indigenous man undertaking preparations for a potlatch, an Italian living museum occupied by migrant families, a bumblebee art car at Burning Man, and artist Lee Mingwei sharing the "transformative gift" of song. The real-life gift economies in the film challenge the logic of global capitalism, inviting us to reflect on the creative process and the reasons we labour in service of our gifts." 7:30pm, $15-$20. Castro Theatre, SF. More info here.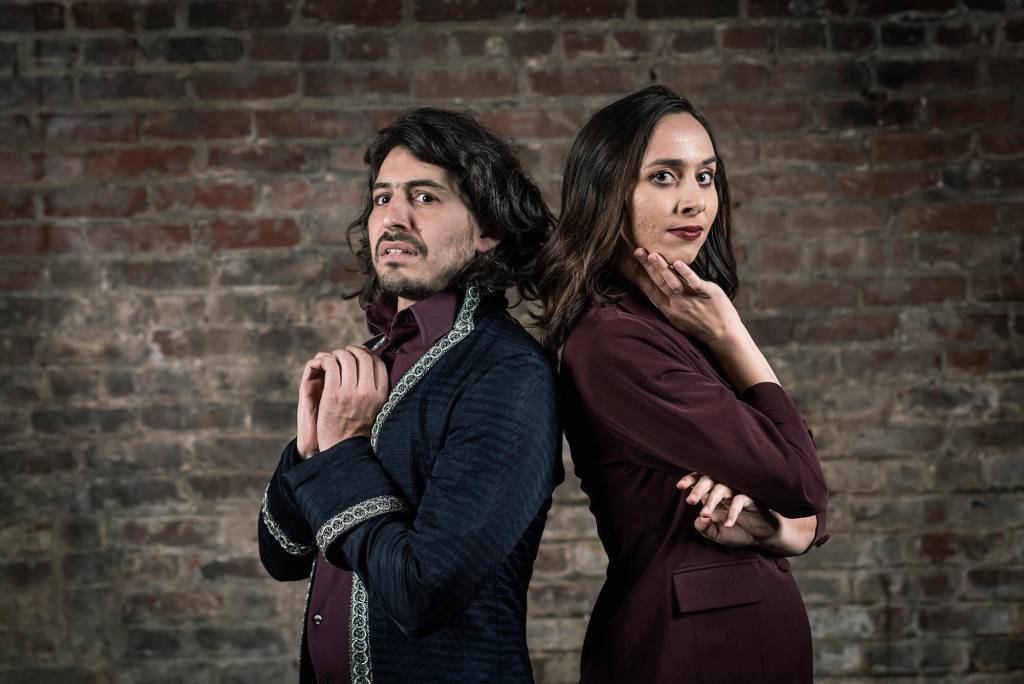 THU/29-DECEMBER 15 STAGE VAMPIRE CHRISTMAS "Former princess Marjean has been hosting her Friends' Christmas for almost a century but this year it's different: Theodore has abandoned her for a werewolf, Georgette is dating a swamp creature, the Twins won't stop fighting, and Daisy Horchester is dead. Like, dead For good. Will she be able to win Theodore back with a new blood soup recipe? Will her non-denominational centerpieces turn everything around? Will they all succumb to the seductions of group lothario Sylvester? How can you live your best unlife, when the unlife you have is hardly alive?" Various times, $20-$30. Exit Theater, SF. More info here. 
FRI/30 TALK VOICES OF THE RESISTANCE: ANGELA DAVIS "Voices from the Resistance ring out at the Brava when Chicana/political activist Olga Talamante and award-winning journalist Chelis López engage in inspiring conversation with legendary activist Angela Davis. Expect your inner activist to come alive as you support the movement while raising funds for The Women's Building "Maestrapeace" book project." 7pm, $25-$80. Brava Theatre, SF. More info here. 
FRI/30 EVENT WORLD AIDS DAY CANDLELIGHT VIGIL "To commemorate World AIDS Day, please join us for a candlelight vigil to remember those we have lost to HIV and AIDS. We will meet outside the San Francisco AIDS Foundation office at 1035 Market Street and walk together (along sidewalks) to San Francisco City Hall. Everyone is welcome to attend this event, organized by San Francisco AIDS Foundation. Candles will be provided." 5pm-6pm, free. Starts at SF AIDS Foundation. More info here. 
FRI/30-DECEMBER 15 ART THE BATHROOM LINE Some great artists and performers involved in this one. "Historically, the bathroom has been more than a place for bathing and hygiene. It plays a critical role in queer history, public space and intimacy, blurring the public/private line and hosting deeply personal spiritual and sexual rituals. It's where drag queens put on their eyelashes, lesbians hook up, and homeless queers wash their clothes, hidden from police and violence. Recently, these spaces have also been deeply politicized by the advent of new laws preventing trans people from accessing the most basic human needs. The Bathroom Line invites four local queer and trans artists of color into conversation, resulting in a series of visual and text pieces installed at SOMArts." Opening reception Fri/30, 6pm-9pm, free. SOMArts, SF. More info here. 
FRI/30-JANUARY 6, 2019 STAGE CIRCUS BELLA: KALEIDOSCOPE "Get ready for a full-force, non-stop show of thrilling feats in Circus Bella's upcoming winter showcase Kaleidoscope, a celebration of diversity and color! Enjoy an evening of performances by aerialists, acrobats, family foot jugglers, clowns, and more–all performed to original music written by local music legend Rob Reich and performed by a live six-piece band. Located under the big top at Mersea Meadow in the heart of Treasure Island." Opening night Friday, 11/30, tickets start at $39. Treasure Island. More info here.
SUN/2-JANUARY 6, 2019 EVENT NIGHT BLOOM The Conservatory of Flowers is being lit up like a very cool rave environment. "Step into a world unlike any other in Night Bloom, a nighttime exhibition. Light and sound will transform the iconic San Francisco landmark into a glowing landscape of interactive and immersive experiences. Guests are invited to embark on a journey through the tropics where cotton candy sunsets are abundant, rare and unusual flowers blossom in the moonlight, and fireflies come out to play." Select evenings, 5pm-11pm, $20-$27. Conservatory of Flowers, SF. More info here.