Gordon Chin, a founder and former director of the Chinatown Community Development Center, notes in his book Building Community, Chinatown Style, that for Rose Pak, "all politics are personal."
"Politics is all about relationships and honest communication," he notes, "which in Rose's case can be somewhat blunt."
That's a gentle way of saying it. Pak, who died Sunday, never kept her opinions to herself, and never held back when she was unhappy with someone.
Take, for example, David Chiu. "To know David Chiu is not to trust him," she told me, repeatedly, when she worked with David Campos for state Assembly. Campos and Pak were often on the opposite side of issues, but that didn't matter –she said Campos was always honest with her.
She didn't trust former state Sen. Leland Yee, either. "Leland Yee is the most corrupt politician I have ever met," she told me when Yee was running for mayor (turns out she was more right than many of us believed).
Me? Sometimes I was okay. Sometimes she said I was a fool for opposing big development projects, including the Wall on the Waterfront. "Let them build it and then take their money," she said, always looking for a way to get resources into Chinatown.
For better or for worse, Pak is the main reason Ed Lee is mayor of San Francisco. When Lee took what was supposed to be a "caretaker" job, he told me very clearly that there was absolutely no way he would run for a full term. That was the agreement with the supervisors who appointed him, he said, and he meant to stick to it.
Then Pak and Willie Brown went to see him and suggested (as Pak told me later) that if Lee didn't run, Leland Yee might win. Lee flipped 180 degrees and entered the race. "I couldn't say no to Willie and Rose" he explained.
He apparently did say no to her soon after, when he refused to appoint her friend Cindy Wu to the District 3 supe seat that opened up with Chiu, despite her best efforts, went to Sacramento. She immediately denounced the decision and worked tirelessly to defeat the mayor's candidate, Julie Christensen, and put Aaron Peskin back in office.
Pak, Chin writes, was all about Chinatown — about "Chinatown's place in history, and commitment to improving Chinatown today, and a passion for protecting Chinatown's future."
Calvin Welch, who sometimes worked with Pak and sometimes was on the other side on issues, told me that she was a political contradiction: "Inside Chinatown, she was left-wing – she was very pro tenant, very anti any kind of development that would hurt Chinatown. Outside Chinatown, she was much more pro-development." In fact, outside Chinatown she often clashed with progressives.
On the other hand, Welch told me that Pak "pretty much singlehandedly brought Chinatown voters into supporting Prop. M," the landmark 1986 growth control measure.
She pulled strings, she cut deals, she raised money (although many who have heard her insistent pitches would use other terms), and while she didn't like the term "powerbroker," it was entirely accurate.
Campos told me that "we always hit if off because from her perspective I was fighting for the underdog, and so was she. Whatever power she asserted was to help people."
And since politics abhors a power vacuum, there will be some interesting shakeups in Chinatown politics in the months and years to come.
It's a good thing nobody pays attention to the Chronicle's endorsements, since the paper's choices for the Board of Supes races are just embarrassing. Except for Aaron Peskin, who got the nod in part because he is running essentially unopposed, the lineup completely excludes the progressives, even when the moderate candidate is really weak. Ahsha Safai? Nato Green has an excellent piece noting that he has "a distinguished record of not doing much." (Except helping screw up the Housing Authority):
When Safai ran for supervisor in 2008, he claimed to have "saved St. Luke's Hospital" on his doorhangers, when, in fact, he made no effort. In 2007, Sutter Health revealed plans to close St. Luke's Hospital. On behalf of the California Nurses Association, I was involved in building a broad labor-community coalition that worked with practically everyone in San Francisco but Safai to save St. Luke's.

In 2010, Safai was appointed to the Housing Authority Commission by then-Mayor Gavin Newsom. The commission is responsible for fiscal and operational oversight of the agency and accountability for the director. Safai and four other commissioners so failed in these basic oversight functions that Mayor Lee replaced them before their terms ended.
Josh Arce? Joel Engardio?
Oh well. As I said, nobody listens to the Chron anyway.
It's going to be busy day Thursday/22. In the morning, Peskin launches his first wave of assaults on the city planning and building inspection bureaucracy with a special Government Oversight and Audit Committee hearing on "building standards in seismic safety zones," which, of course, includes the Millenium Leaning Tower.
Peskin has been all over the news in the past week talking about how he senses something fishy in the way the city approved and allowed people to move into a huge luxury condo complex that has been sinking and tilting since it opened. The tower was anchored in landfill, not bedrock; that saved the developer money but all of that savings will likely vanish as the costs of litigation pile up.
Meanwhile, you want to be living next door to a tilting building in an earthquake?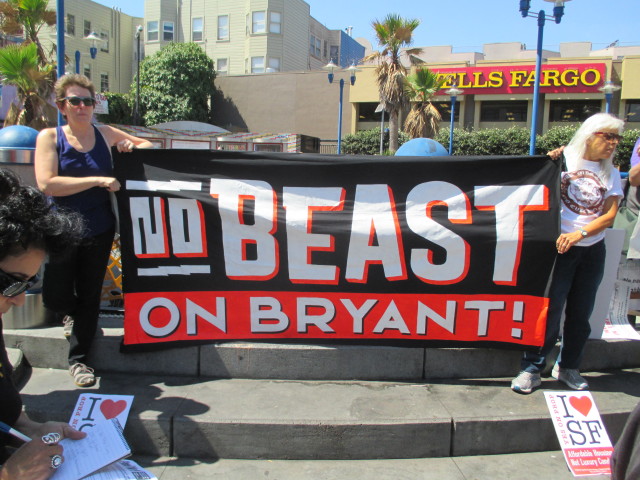 Then on to the Planning Commission, which will hear a report on what's been happening in the Eastern Neighborhoods since an area plan was adopted in 2009.
This is critical: Last week, the Board of Supes approved the Beast on Bryant, a massive housing development in the Mission, saying it doesn't need environmental review since a full environmental impact report was already done on the area plan.
That's the law in California: You a major area plan, analyze the impacts of the projected development, and any project that fits the parameters of the plan can move forward without further review.
But the Mission in 2009 is very different from the Mission in 2016 – and there are changes well beyond what the planners and environmental reviewers could have predicted. As Spike Kahn, the lead opponent of the project, noted, there were no Google buses in 2009. The profound housing crisis, the radical displacement wave, the cannibalizing of arts space and PDR space … the EIR couldn't have predicted all of that.
In fact, as Peskin has pointed out in past hearings, many parts of the EN have already reached the amount of new market-rate housing the EIR predicted. Sup. Malia Cohen asked the question that was on everyone's mind: How can we get rid of the Eastern Neighborhoods Plan and do a new one?
That, for better or for worse, is a years-long project. It's also why a lot of Mission residents have asked for a moratorium on market-rate housing while all of these impacts are studied. The majority of the supes have refused to do that.
The report that the planners will hear is pretty devastating: In just the past four years, nearly 1 million square feet of PDR space – that is, space for blue-collar jobs and artists – has been converted to "other uses," mostly office. Office jobs in the area went from 26,000 to 45,000.
Future projects will lead to the loss of another 1.3 million square feet of PDR space. The planners don't seem overly concerned; it's as if that part of San Francisco is just history.
The commission will have two new members this week, Myrna Melgar (appointee of Board President London Breed and Joel Koppel, appointee of the mayor. Melgar has been part of Eastern Neighborhoods community politics for a long time, and gets the issues. We will see about Koppel.
We will also see whether anyone on the commission is ready to say that the Eastern Neighborhoods Plan is way out of date and needs to be changed, quickly, where there are still some Eastern Neighborhoods left to protect.
About the Beast on Bryant: Campos, who voted in favor of the project, said it had "come a very long way," and that's absolutely true. It's a lesson the city planners don't seem to get: No developer ever comes forward with their best offer at first. What Nick Podell initially proposed, and the city was prepared to grant, was a terrible project. After extensive community organizing and opposition, he eventually agreed to a project that is nowhere near as bad and includes a lot more affordable housing and the preservation of some PDR and arts space.
Which leads me to the question I always ask: Why doesn't the Planning Department demand these kinds of concessions before allowing these projects to go forward? It would save all of us a lot of time.
Peskin said at the hearing that the department pretty much does the will of the developers, which is, sadly, too often true, and something the commission, too often, just sits back and allows.
I still think this project will be a displacement bomb, and that the affordable housing it creates will not make up for the impacts on the surrounding area. Development of market-rate housing creates by itself more demand than even 40 percent affordable deals can provide. I fear the existing residents of the northeast Mission will be worse off with this project than they were before Podell bought the property and decided to develop it.
And then it's back to D5, where there will be a rare direct two-hour debate between incumbent London Breed and challenger Dean Preston. This is one of the most progressive, left-leaning districts in the city, and Breed has often been with the moderates on the board. Preston is a tenant lawyer and tenant organizer. There are some very clear differences between their policy approaches, and it will be fascinating to see how they play out in a wide-open debate. 6:30 pm, St Mary's Cathedral, 111 Gough, lower level. Doors open at 6.