Why would someone raise more than $70,000 to run for a seat on the committee that oversees the local Democratic Party? Well: You have to really, really want to be a member – or you have to think it's going to help get you elected to another office.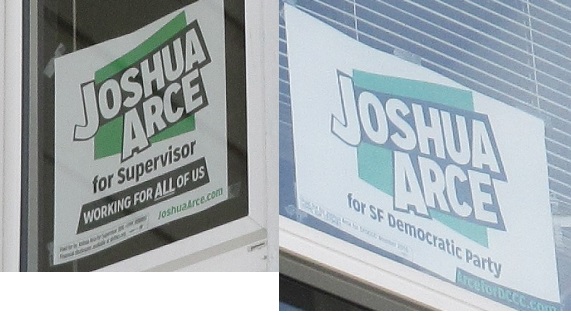 Or you have to have supporters who understand that control of the seemingly obscure panel matters a lot to the future of the city.
Control of the local party is critical this year, because the party endorsements will matter in the six contested races for supervisor. For whatever reason of numerology, Districts 1, 3, 5, 9, and 11 have traditionally elected progressive supes; of the even-numbered seats, only D6 has been historically and consistently progressive. And of the odd-numbered seats, three are open this fall; Sups. David Campos, John Avalos, and Eric Mar are termed out. If the left loses those seats, then there's no hope for anything but another two, or maybe four years of the board following in lockstep the policies of Mayor Ed Lee and his Big Tech allies.
So everything that goes on with the DCCC is a proxy for the fall elections. Which is why it's so interesting that some of the people running for supe are also running for DCCC, in essence running two connected campaigns. And in the less-significant of those races, for DCCC, there are no campaign contribution limits.
We talked about this a bit last week; the loophole is a serious problem. It's also legally complicated.
If you run for supervisor, you can only raise money at $500 a pop. If there's an "independent expenditure" committee supporting you, it can raise unlimited money – but you can't coordinate with the IE, and if you do you can get in a lot of trouble.
But you can't exactly have "independent" campaigns for supe and DCCC if the same person is running for both jobs. So the unlimited money and the limited money, while technically distinct, are hard to distinguish.
Josh Arce is running for both offices – DCCC and D9 supe. He has window signs for each one. They look, for all practical purposes, exactly the same. From a distance – like the distance between the sidewalk and a window – you can't tell the difference; the "for Democratic party" and "for supervisor" are there if you look closely, but the type style is exactly the same, the colors and graphics are exactly the same … from the street level, it's the same campaign.
Arce's campaign manager says the two races will be handled entirely separately:
Jason Stewart, Arce's campaign manager, fought back against that characterization and said his committee money would be completely separate from funds used in the District 9 race.

"Any funds that he raised for the DCCC campaign have to specifically be used for the purpose of DCCC," Stewart said. "He's going to be working hard to raise money from the residents of District 9 to show that he can be and will be a great supervisor for the district."
I suppose that means Arce can't send a mailer with the DCCC money to anyone except a registered Democrat, because only Dems are allowed to vote in that race. Big deal – much of D9 is Democratic anyway. And window signs and other outdoor ads are seen by all eyes, not just ones in a certain party.
The whole thing can reach the level of absurdity. The DCCC is supposed to be made up of party activists. Joel Engardio, who is running for both supe and DCCC, wasn't even a registered Democrat until 2012; he'd been an Independent since 1999, but changed to Dem when he first ran (unsuccessfully) for supe. Now's he a Dem, and he's got all of the worse landlord lawyers in town backing him – Andrew Zachs, he Ellis Act eviction specialist; Denise Leadbetter, who handled this disgrace; and Steven MacDonald, who was so notorious for his anti-tenant work that Assemblymember David Chiu returned a campaign check.
UPDATE: Engardio tells me he registered DTS because he was a journalist:
Back then, I was a working journalist subject to a employer code that I not be involved in political activity (other than my personal right to vote). Many, if not most, journalists working under that code registered as Independents. As a young journalist, I followed the example of my colleagues and editors.
That's unusual — lots of reporters these days are registered to vote as party members. But if he's old-school, I can't argue.
But I can say the real-estate lobby really, really doesn't want progressives to win the DCCC or retain control of the Board of Supes. It's going to get ugly.
(Oh, and if you want to see how bad the current DCCC is, the panel will be meeting Wed/24 and will vote, I suspect, to endorse the highly problematic affordable housing bonus program and to encourage more kids to join JROTC, the military recruitment program for teenagers in the public schools.
Last week was quiet on the political front, but as we get nearer the deadlines for filing ballot initiatives and Charter amendments for the June ballot, things are heating up fast.
The biggest fight at the Board of Supes Tuesday/23 may be over Sup. Jane Kim's measure that would immediately double the amount of affordable housing private developers have to provide and would allow the supes to make further changes in the future.
The board has split 6-5 over this in the past, and Kim needs a majority to move it forward in enough time to make the June ballot. The mayor is strongly against her measure.
There will be a press conference and rally at noon on the Polk St. steps of City Hall. There will be a lot of speakers. There are probably six votes for the measure – but it will be interesting to see what Sups. London Breed, running for re-election, and Scott Wiener, running for state Senate, decide to do. Are they going to defy the mayor – or vote against affordable housing?
But that's just one item, and there are plenty more.
Sup. John Avalos has a measure to raise the (ridiculously small) fee that developers pay for transit; in the Land Use Committee, Sup. Wiener and Malia Cohen voted against it, and Sup. Aaron Peskin voted in favor. Avalos also wants to mandate a conditional-use hearing any time a landlord in the downtown area tries to remove a housing unit, legal or illegal.
The discussion on the Recreation and Parks set-aside was continued two weeks ago, but it's back, and at some point this board is going to have to say yes or no. Yes – do we want to give a guaranteed annual allocation to one of the worst-run departments in the city? No – do we want to say we have too many of these set-asides and that Rec-Park's privatization policies are a problem and shouldn't be encouraged?
Here's the politics: Does anyone really want to vote against parks and recreation?
The Google Buses deal will come out this week, too – or else it won't. The supes are scheduled to vote on the appeal of the project EIR, which could kill the program, and there have been intensive talks to try to reach a deal. I am told all the sides are close (and one part of any deal will be a limit on the number of buses and a study on whether to move them all to a handful of hubs instead of letting them cruise, and drive up rents in, every desirable neighborhood.)
And along with all of this, there's a sleeper of a measure by Sups. Mark Farrell and Eric Mar that would require the SF Public Utilities Commission to conduct a study of all underground fiber-optic cable owned by the city. When Tom Ammiano was on the board, he looked into this; it turns out the city has lots of fiber in lots of places. Farrell, I suspect, just wants to make it easier for city agencies to have high-speed broadband, but there's a larger possibility here.
Does anyone – anyone – like their broadband company? I have Comcast and I don't. I can imagine that city-run broadband service could possibly be worse, and would probably be much cheaper and much better, and would bring the city tens of millions in new revenue.
Ought to be on someone's agenda.
The Budget and Finance Committee meets Wed/24 and will consider an increase in the city's hotel tax to fund programs for family homeless services. Expect opposition from the hotel industry (and maybe Airbnb), which will complain about the impact on tourism – but tourism is soaring, even without the Super Bowl, and hotel occupancy is at historic levels.
And if you want to know how the city is doing with its homeless programs … well, you could look out on the streets … but there will also be a hearing Thursday/25 at the Government Audit and Oversight Committee on how the city is handling the problem. And with former Mayor Willie Brown admitting that he hosed down the homeless on the streets and calling for a crackdown on tent cities, and C.W. ("WTF Chuck") Nevius attacking the head of the Coalition on Homelessness, you can expect some interesting discussion.
BTW: Jenny Friedenbach is the conscience of San Francisco, a wonderful person and advocate. Nevius often boggles me, but this was utterly uncalled for.
And if we want to get rid of the tent city on Division, why not get creative? I know why homeless people don't want to move into the new Pier 80 shelter; it's got less privacy than some jails I've been in. One person on Facebook had a creative idea: Why not get rid of those floor mats and just let people pitch their tents at the pier?
The City Planning Commission meets Thursday/25 and may finally send the Affordable Housing Density Bonus plan to the supes. Where, in its current version, I think it will die. And that may be why the planners are happy to see it go.