All-night drag-a-thons, cheap disco man-a-thons, queer prom, neon fairies, a mustache party, Lexington Club and Cookie Dough tributes, Horsemeat Disco, Pound Puppy, Hard French, Honey Soundsystem, and (Juanita) more, more, more, June 24-28.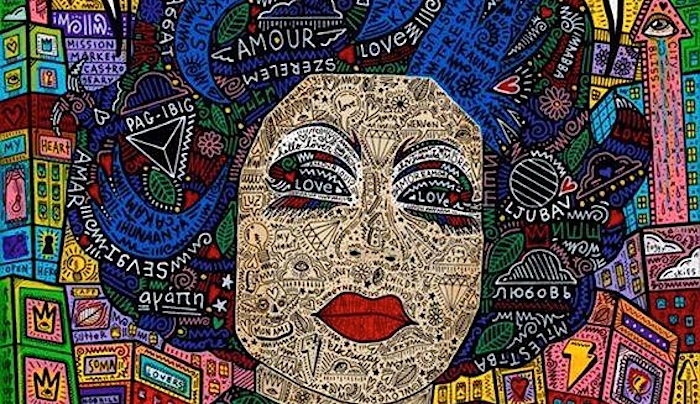 By Marke B. 
PARTY RADAR Here are some essential things to know about this year's Pride, now in its 45th year. The incredible Dyke March on Sat/27 is starting early (3:30pm instead of 5pm) and taking a slightly different path, so that it can dovetail with the new Castro "Pink Party," which is what happened to Pink Saturday after the Sisters of Perpetual Indulgence stopped hosting it, due to violence. (The Pink Party takes place on the Castro streets much earlier than Pink Saturday did and is sponsored by the LGBT Community Center, but still boasts some really fun-looking talent.)
Despite cracking down on people whose names don't conform with their government documents (something many drag queens, trans people, porn and other performers, professional writers and actors, victims of stalking and abuse, Native Americans, and people who want to lead private lives all have in common), Facebook will be marching in the parade. Hurray for San Francisco, there will also be a colorful protest, featuring many of our most-recognizable drag queens.
Things to especially celebrate this year: The city's first homeless shelter dedicated to LGBT people opened last week, and LGBT history is finally going to be taught in SF public schools this summer. And then, of course, the Supreme Court decision on same-sex marriage is expected to be handed down any minute, so there's that as well.
But mostly there's an overwhelming rainbow panoply of events, actions, parties, and more. Here are the ones we're all in for:

>>>> ONGOING <<<<
NATIONAL QUEER ARTS FESTIVAL The 18th annual monthlong festival of all things expressively queer continues, with "Pants, the Musical," the final bow of legendary queer-women-of-color dance party Mangoes with Chili, extensive presence throughout Pride weekend, and workshops on creating queer community through arts grants. Through June 30. More info here.

FRAMELINE This big momma of LGBT film festivals is 39 years old and still steaming up Bay Area screens. Highlights from the second week include the always raucous shorts programs, and more features from around this great gay word of ours. Through June 28. More info here.  
"30 YEARS OF COLLECTING ART THAT TELLS OUR STORIES" In this fascinating exhibit at the GLBT Museum, curator Elisabeth Cornu utilizes the vast GLBT Historical archives to tell the story of queer life from the 1960s to the 1990s. Lots of historical artwork, pictures, and documents that range from lesbian life on Valencia street to leather bars of yore. Through July, more info here.    
>>>> WEDNESDAY 24 <<<<
>>PULLIN' PORK FOR PRIDE 48 Hills teams up with the Harvey Milk Democratic Club for this annual wild-yet-casual tradition, with free carnitas from Casa Sanchez, a $15 beer bust, a cute and engaged crowd, and fun surprises. Wed/24, 6:30pm-9:30pm, free. Pilsner Inn, SF. More info here.  
>>BOOTY CALL WEDNESDAYS Miss Juanita More, SF's drag doyenne, is going to be all over this town this weekend — her weekly club night in the Castro, this week featuring adorable DJ Stanley Frank and some awesome tunes, is the unofficial Pride kickoff party. Wed/24, 9pm-2am, $5. Q Bar, SF. More info here. 
>>>> THURSDAY 25 <<<<
>>THE LEXINGTON PRESENTS: PRIDE KICK-OFF PARTY One of the biggest recent nightlife casualties of SF, the Lexington Club itself may be gone, but it lives on in a series of events to celebrate pride. (Look for more upcoming Lexington Presents events as well.) For this hot-girl shindig, DJs Workalook, Jenna Riot, and Lady Ryan, plus the whole Lexington door and bar crew, take over Virgil's Sea Room in the Mission. Thu/25, 9pm-2am, $5. Virgil's Sea Room, SF. More info here. 
>>HORSEMEAT DISCO If you're looking for old school classics played in a contemporary way, it gets no better than this fearsome foursome from London. The quartet of cuties — who travel the world DJing separately and in pairs — dig and dig until they find the rarest gems, then polish them with their unique sense of timing and aplomb. Opening is MikeQ, leader of the new wave of vogue beats, and the Lights Down Low crew. Not to be missed. Thu/25, 10pm-4am, $20. Mighty, SF. Tickets and more info here. 
>>NIGHTLIFE: PRIDE EDITION One of the most anticipated annual events: colorful queers take over the California Academy of Sciences for a wild, swinging' party. This year features the Hard French DJs playing old school soul 45s, the Topsy Turvy Circus, and a drag show hosted by her royal hairness Heklina. Thu/25, 6pm-10pm, $12. Cal Academy, SF. More info here.  
>>MONSTER SHOW: GAY ANTHEMS This is our first Pride without the glowing light of drag queen Cookie Dough, who tragically passed away in January. But her crazy-fun weekly drag show the Monster Show has continued with the strength and love of her friends. This week is the annual "gay anthems" show, and you know the queens are gonna dust the mothballs off some classics. (Shots every time "I Will Survive" comes on, ok?) Thu/25, show at 10pm, free. The Edge Bar, SF. More info here.  
>>DOUBLE DUCHESS The wild, local, queer electro-booty duo has been taking the world by the g-string and tubing it into new dimensions. This party celebrates the release of new album, All Eyes on Me, and pairs with Seattle's great Comeback party, down here for Pride. DJ David Sylvester heats it all up. Thu/25, 10pm-2am, $10-$12. SF Oasis. More info here. 
>>IAN MACKINNON'S GAY MUSIC REVOLUTION A new theatrical multimedia tour of queers in music fro this performance-activit, including classical, Roaring 20s, blues, rock, glam, punk, disco, and more. Thu/25, 7pm, $15-$50. SAFEhouse, SF. More info here.
>>THE TUBESTEAK CONNECTION For 11(!) years, every Thursday, DJ Bus Station John has made Aunt Charlie's Lounge in the Tenderloin the disco center of the universe, schooling the children on the man-on-man sexiness of yore. Com dancing. Thu/25, 10pm-2pm, $5. Aunt Charlie's Lounge, SF. More info here.
>>MEGAPHONE A benefit for the Castro Street Fair, a party at the gorgeous Temple nightclub in Soma, a dance shindig featuring some of my favorite queer DJs – Chelsea Starr, DJ Justime and Collin Bass (playing together as Digital Wildlife). <Amy Schumer voice> Megaphone? I'd call this party MEGA-FUN. </Amy Schumer voice> Thu/25, 9pm-late, $8. Temple, SF. More info here. 
>>LESBIAN LEXICON LAUNCH PARTY Lesbians — they have a language of their own! Come see how 30 lesbian artists responded to "words invented to describe previously unnamed queer phenomenon, words already used in popular queer vernacular, and a few gay words of antiquity." And dance to a bunch of cool DJs, of course. Thu/25, 5pm-9pm, free. Tenderloin National Forest, SF. More info here. 
>>OVERBOARD "Hoist yourself to this queer pride extravaganza with your best gayface and all the good goods." Well, OK then. This after party for the Lesbian Lexicon Launch (see above) features DJs Durt, Sissyslap, and Siobhan Aluvalot, and promises to be some good downtown fun. Thu/25, 9pm-2am, $5 (NOTAFLOF). Showdown, SF. More info here. 
>>DARRIN: PHOTOGRAPHS BY JAMIU HELLO The local photographer presents his latest series, "a body of work about two men sharing their lives together. It's as gay as it gets!" Expect romance and sexiness. Thu/25, 6pm-8pm, free. Rayko Photo Center, SF. More info here. 
>>>> FRIDAY 26 <<<<  
>>TRANS MARCH 2015: POWER THROUGH VISIBILITY Many trans people and issues have broken through into the mainstream this year, but there's still a lot of work to be done to secure equal rights and safety. Join hundreds of trans marchers, performers, and supporters for this one-of-a-kind essential gathering. Fri/26, noon-8pm, gather in Dolores Park, SF. More info here. 
>>MR. This annual, glamorous mustache (and mustache-adjacent) party is a real hoot, featuring some of the best dance music of the weekend. This time around, bass-heavy house-head Christian Martin of our own world-renowned Dirtybird crew drops in to drop the floor. With fellow DJs David Harness, Juan Garcia, Jom Hopkins, and more. Fri/26, 9pm-3am, $20-$25. Monarch, SF. Tickets and more info here.   
>>SOME THING FAAAAABULOUS ALL NIGHT LONG! Kooky weekly art-drag attack/party Some Thing unleashes a quiver-full of queens right into the heart of Pride at this 10-hour(!) party. Deconstructions, reconstructions, straight-up diva numbers: it's all here, chicas. With DJs Stanley Frank and Chi Chi and seriously like 1000 drag queens. Fri/26, 10pm-8am (yes there's a 5:45am drag show), $12. The Stud, SF. More info here. 
>>STEAM: PRIDE EDITION Wet towel fight! Let your wild locker room fantasies cascade like warm waterfalls, as this monthly bathhouse-themed party celebrates Pride. Yes, the go-go boys dance in showers, and yes there is indeed a wet towel contest. With old school disco grooves from DJs the BeDazzlers. Fri/26, 9pm-2am, $10. Powerhouse, SF. More info here.
>>HELLA NIKKI '80s jams! (Plus some contemporary tunes) at this lesbo-queer party, a fundraiser for the Lexington Club Archival Project. DJs Durt, Andre, Jibbz bring it. Fri/26, 8pm-2am, $8. Slate, SF. More info here.   
>>DRAG YOURSELF TO PRIDE PROM: DEAD CELEBRITY "Dress as a Hollywood icon who should not have passed. Or maybe a rockstar who partied too fast.  A star whose bright lights just couldn't last. Dress to Impress or prepare to get sassed." I love the pictures that come out of this event! Fri/26, 9:30-2am, $10-$20. Rickshaw Stop, SF. More info here. 
>>ODYSSEY San Francisco's beloved pansexual party returns, this time playing upstairs in the Public Works loft during the Basement Jaxx concert. Special guest Ruban Mancias joins Elaine Denham, Robin Smmons, and E'lish. Fri/26, 9pm-3am, $15-$30. Public Works, SF. More info here.
>>BEARRACUDA Big. Hairy. Mens. Fri/26, 9:30-3am, $15-$20. Beatbox, SF. More info here.
>>#HOLDONTOSF More than mere hashtag activism, this showcase of queer artists living on the edge in our hella expensive city offers a colorful array of hope and concern. Plus really cool art! Radical drag queen Persia curates. Fri/26, 6pm-9pm, Incline Gallery, SF. More info here. 
>>CLUB IRL Get offline and get into the club. Its time for some frisky face-time, not FaceTime, at this after party for #holdontoSF (see above) with DJs CarrieOnDisco, Doc Sleep, Siobhan Aluvalot, and Jordee. It's a benefit for the essential  Trans Lifeline as well.  Fri/26, 10pm-2am, $5-$10 (NOTAFLOF). UndergroundSF. More info here. 
>>"PANSY" Spunky performer Evan Johnson's play is a true delight: Shadows stir in modern day San Francisco when Michael discovers a time capsule in his basement, containing VHS tapes, audio cassettes, and wrinkled party fliers documenting '90s gay club kid Peter Pansy. Fri/26, 7pm, $15-$40. SAFEhouse, SF. More info here. 

>>>> SATURDAY 27 <<<<
>>DYKE MARCH Different time, different route, but still the same radical spirit. My absolute favorite part of Pride. This year's theme: "My body. My business. My power." More timely than ever! The celebration begins with a huge rally in Dolores Park (get there early to spread your blanket, half the park will be closed for upgrades.) Then let loose at the march, shouting for freedom and power. Hurray for Dykes on Bikes leading the way, too. Sat/27, 11am rally, march at 3:30pm, gather in Dolores Park, free. More info here. 
>>PINK PARTY Pink Saturday is dead, long live Pink Saturday. The Pink Party is its replacement, a huge daytime affairs spanning blocks of the Castro, and featuring homegrown talent like DJ Bus Station John, Shawna Virago, Trixxie Carr, the Monster Show drag show, Hard French DJs, and zillions more. This one benefits our fantastic and necessary LGBT Community Center, so come on down. Sat/27, 3pm-8pm, $10 suggested donation. Castro, SF. More info here. 
>>HOUSE OF BABES Babes! Babes everywhere! This is one of my favorite parties, bringing together all kinds of rainbow children to shake, rattle, and roar. Hip-hop artists Siya and Njena Redd Foxx headline, with DJs Workalook, Jenna Riot, DaveO, boy_friend, and more babes, babes. BABES! Sat/27, 5pm-3am,
>>POUND PUPPY One thing to wag your tail about at Pride: The emergence of the puppy scene as a major gay fetish force (and, for good or ill, fashion trend). This monthly party/sniff-out is SF's ground zero for dancing pups, and the trainers who love them. (Also, just a lot of hot scruffy boys into awesome parties.) With super DJ duo Vienetta Discotheque, plus Ambrosia Salad, Taco Tuesday, and Kevin O'Connor, aka Dopey the Mermaid. Sat/27, 9pm-late, $10-$15. F8, SF. More info here.    
>>PINK MAMMOTH SUMERTIME BLOCK PARTY A ginormous all-day/all-night party that features more than 30 DJs — including the wonderfully gay Derrick Carter of Chicago and our very own David Harness.. Huge! Sat/27,  noon-4am, $20-$40. Mighty, SF. More info here.
>>DARK ROOM Glamorously dark tunes (and guest host Raven) bring out your inner ghoulfriend. Phatima Rude, Suppositori Spelling, The Dark Dolls, and DJs Le Perv and Omar get you all black-glittery. Sat/27, 9:30pm-4am, $12. The Stud, SF. More info here.  
>>HOUSEPITALITY: PRIDE EDITION Our best weekly house party (it is incredible) brings out fantastic French edgy-lovely, electronic genre-hopping DJ and producer CHLOÉ to celebrate Pride. With Housepitality regulars Tyrel Williams, Victor Vega, Mike Bee, and more.  Sat/27, 9:30pm-3am, $10-$15. Monarch, SF. More info here. 
>>LADY BUNNY Her royal hilarious high-hairness, NYC's energizer Bun-Bun is always a treat when she graces us with her live presence. Just don't get to close to the stage, or you may pass out from the acid jokes and AquaNet! She's headlining Heklina's weekly drag throwdown Mother (formerly Trannyshack) with a ton of special guests. Sat/27, 10pm-late, $10. SF Oasis. Tickets and more info here.
>>AFTERGLOW: BLACKLIGHT DISCO The underground, all-night dance party literally lights up Pink Saturday, turning its massive Radical Faerie/Burning Man crowd into a neon mass of motion and joy. (This is the annual huge fundraiser for Burning Man camp Comfort and Joy.) DJs Mark Louque, Robot Hustle, Go Bang!, Doc Sleep, Paul Goodyear, and so many more keep you all aglow. Sat/27, 10pm-6am, $20-$50. More info here. 
>>HELLA GAY Heeeeeeey Oakland! Of course the hottest queer party in the East Bay has to get some post-Dyke March action. Hop on that unicorn steed named BART and get a piece of DJs GSTAR, Balthasar, and more hip-hop/electro players, plus of course the patented Hella Gay hella cute crowd. Sat/27, 9pm-2am, $5. Brix, Oakl. More info here.

>>>> SUNDAY 28 <<<<
>>PRIDE PARADE + FESTIVAL The 45th annual Pride celebration and parade may be mostly unrecognizable from its humble Polk Street and picnic beginnings, but its still such a necessary gathering of the community — if only to check out each other's outfits. Plus, the PFLAG contingent will always make me cry buckets. If you go to the festival celebration in Civic Center (which also runs Sat/27), be sure to check out the Faerie Freedom Village for a dose of classic SF gaydom. Sun/28, parade starts downtown at 10:30am and makes its way up Market to 8th Street. Celebration 11am-6pm. Free (donations encouraged). More info here.  
>>JUANITA MORE! PRIDE PARTY Pretty much the party of the year — or at least the best place in the universe to update your fabulous look. Miss Juanita More! hosts this charitable outdoor extravaganza at Jones, featuring disco legend Steve Fabus, house hero David Harness, blonde tornado Jackie House, and eternal cutie Robert Jeffrey on the decks, plus performances by Double Duchess and Miss Rahni. This year's beneficiary is the Y.E.S. Youth Empowerment Summit — so party your face off and feel so good about it.  Sun/28, noon-10pm, $35. Jones, SF. More info here. 
>>DISCO DADDY PRIDE MARATHON For pure, uninhibited, unadulterated nostalgia for the back rooms and bathhouses of Gay Golden Age, nothing beats disco/hi-NRG wizard DJ Bus Station's Disco Daddy party at the Eagle. This special edition is "perfect for both party-hoppers and party-paupers." Pride's gonna get crazy, steamy, and wet (for so cheap!). It's a MANATHON.  Sun/28, 7pm-2am, $5. Eagle, SF. More info here.  
>>HONEY PRIDE When they're not busy flying hither and yon, bringing the gospel of underground SF gay techno to the world, the four Honey boys hold down our local scene with some of the best parties in the business. For their annual Pride party, they're bringing in Detroit's incredible DJ Minx and Miami's classic beardo Mystic Bill for some deep sounds that will pump you full of Pride." Sun/28, 8pm-4am, $25-$30. Mighty, SF. Tickets and more info here. 
>>HARD FRENCH ▼s LOS HOMOS V Our classic monthly soul stompin' patio party, Hard French, goes all out for Pride, with a huge party featuring extremely excellent early '80s live funk sister-act ESG (essential progenitors of most of the music you hear nowadays in the club). PLUS!  A whole block party's worth of soul music, wild dancers, diverse queers, and DJ contributions from six other rad clubs. An extravaganza, a highlight. Sun/28, 3pm-11pm,  $15-$25. Mezzanine, SF. Tickets and more info here.
>>MIGHTY REAL POOLSIDE PRIDE Massive monthly purveyors of soulful house, the Mighty Real crew goes poolside at Phoenix Hotel for special guests Ultra Naté and Lisa Moody, bringing their revered Deep Sugar party from Baltimore to SF to show the children how it's done. So much good vibes here, with DJs David Harness and Homero Espinosa. Sun/28, noon-8pm, $60. Phoenix Hotel, SF. More info here. 
>>QUEERLY BELOVED Queer, independent porn goddess Courtney Trouble's annual party at El Rio is a packed hoot. DJs! Performers! Queer porn star go-gos! Sexiness! There's so much going on, and it's a great alternative to many of the overwhelming Pride parties shouting in your ear. Sun/28, 3pm-8pm, $10. El Rio, SF. Tickets and more info here.
>>THE MORNING AFTER Wonderful new club Oasis just opened up its roof deck bar, and its hosting an all-day BBQ from Sneaky's up there — providing some much-needed wieners for your weekend-steamed buns. Tamale Ringwald and Lady Bear are bartenders; good luck staying upright, dear. Sun/28, 11am-9pm, free. SF Oasis. More info here.