ULTIMATE PRIDE GUIDE 2017 Pride started as a celebration of a protest, how cool is that? And watching SF Pride (Sun/25) progress from its raucous roots, through slick corporate extravaganza, and now finally toward a glimmering reclamation of the classic queer radical spirit is exhilarating.
While, alas, we haven't not taken as bold a stance as Los Angeles when it come to resistance (LA explicitly embraced the theme, and shed a bunch of phony pink-washing sponsors in the process, while we're settling for a resistance contingent near the front of our parade), we're still kicking against the pricks with fiercely out and proud art, protest, and celebration all week. Plus, we still have the Trans March (Fri/23) and the Dyke March (Sat/24), which are the most kick-ass things in the world when it comes to political inspiration.
And then there's the parties. I'm already exhausted thinking about the week ahead — I usually ignore the big ticket mainstream stuff and focus on the hyper-creative, underground affairs (partly as a survival strategy, because who has time and money for all that fancy-fancy mess?). But this year shows we have an incredibly healthy alternative queer party scene, with something for everyone looking beyond with strict gala dress codes or shirtless gym bunnies.
Below is our selection of parties, protests, shows, and more that deserve a fist-pump for Pride 2017. (And here's a disclaimer: I'm one of the new owners of the Stud, and I list our events throughout. But that doesn't mean I don't highly recommend all of these parties. We're all trying to keep San Francisco nightlife queer!)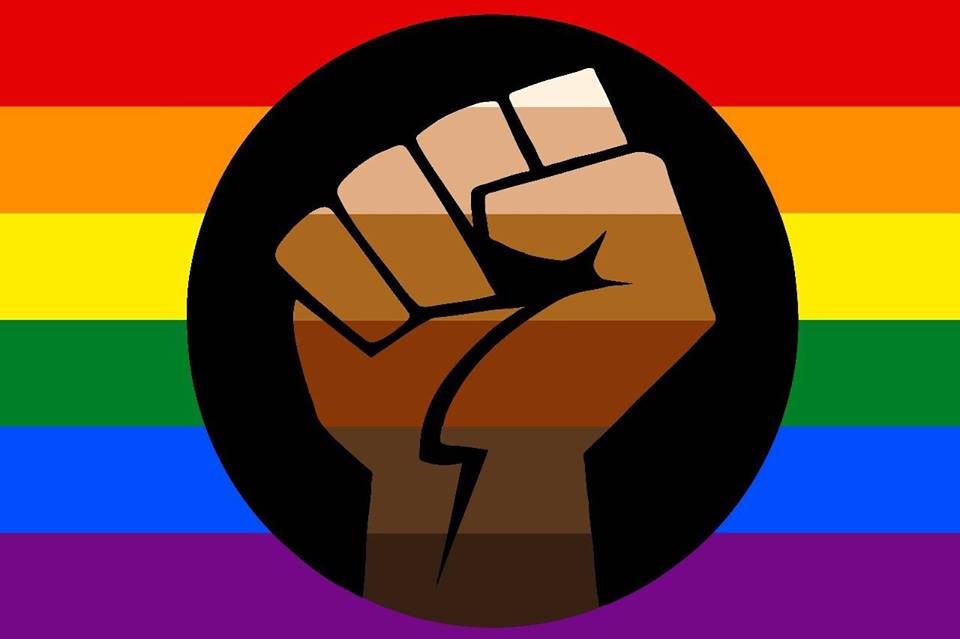 PS Special shout out to Tumblr user Yoshi, who designed this awesome Queer POC Pride flag — I love it, and it really captures the moment. Read more about it here.
ONGOING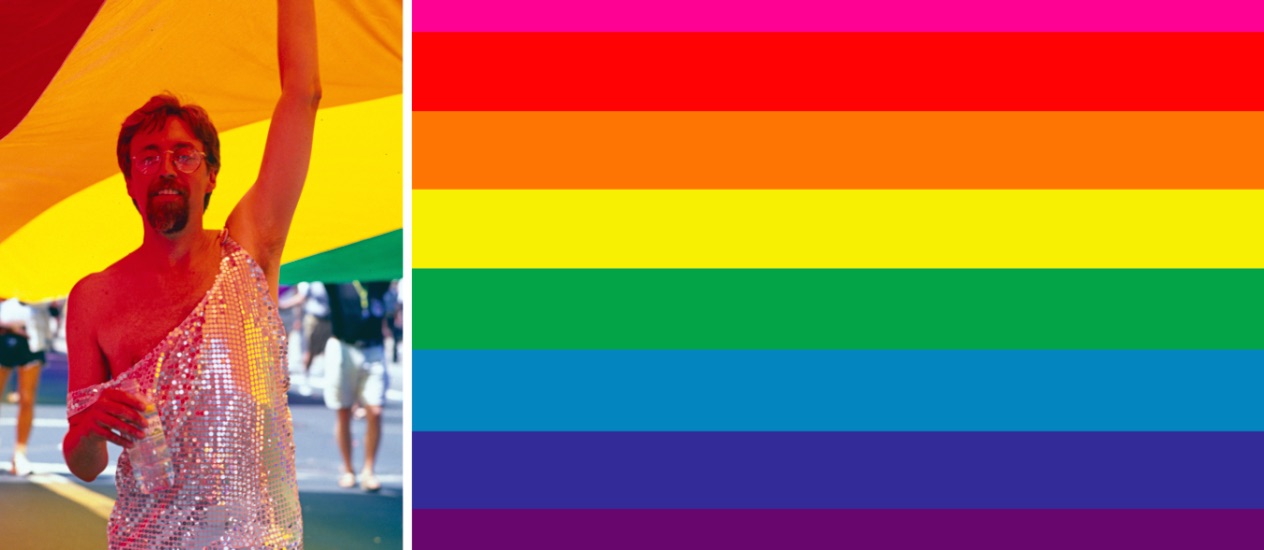 FRAMELINE FIM FESTIVAL The world's biggest LGBT Film Festival was also its first. Now celebrating 41 years (woot!), Frameline is bursting with dozens and dozens of films from all over the world showing the presence and diversity of queer life. Check out our guide here and go commune in a darkened theater with enthusiastic fellow queers! Festival runs through Sun/25. Tickets and more info here. 
NATIONAL QUEER ARTS FESTIVAL Dozens of performances packed into the schedule this year — the festival's 20th — including the awesome Queer Comics Expo and the always-moving Queer Rebels show. Festival runs through July 9. Tickets and more info here.
CELEBRATE COMMUNITY! "Make it vain and glamorous, just like me." Just before he died on March 31, Rainbow Flag inventor Gilbert Baker was involved in planning this photography and art show at the Harvey Milk Center in Duboce Park. Come see his choices of community expression and celebration through July 23. More info here.
LAVENDER-TINTED GLASSES The GLBT History Museum displays a revealing exhibit about the rarely explored queer lights shining through the Summer of Love, including Kenneth Anger, Janis Joplin's girlfriend Jae Whitaker, philosopher Gavin Arthur, and more. Also on display: gorgeous portraits of the community by Lenore Chinn. More info here.
WEDNESDAY, JUNE 21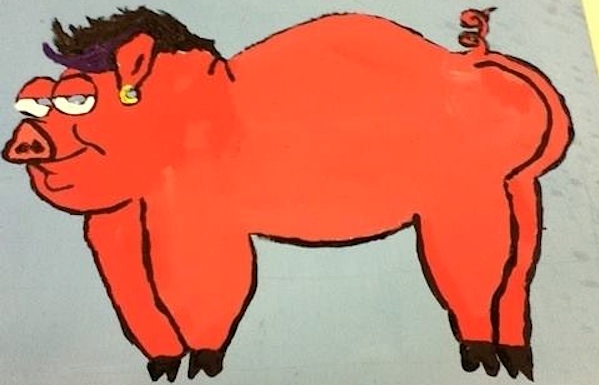 PULLIN' PORK FOR PRIDE 48 Hills' annual patio party Pride kickoff with the Harvey Milk Democratic Club! It's a fundraising beer bust  — featuring yummy carnitas from Casa Sanchez, all in the Pilsner Inn's backyard. Come out and support! Wed/21, 6pm-9pm, $10 for fundraising beer bust + $10 for food. Pilsner Inn, SF. More info here.  
MARGA GOMEZ Kick off your Pride the traditional way — with zany Latina lesbian comedy! Guest set by beloved former State Assemblymember Tom Ammiano. Wed/21, 7pm-9:30pm, $20. Feinstein's at the Nikko, SF. Tickets and more info here.  
DERRICK CARTER The queer DJ legend of Chicago house music comes to fabulous weekly party Housepitality with a bag full of vinyl goodies. Wed/21, 9pm-2am, $10. F8, SF. Tickets and more info here. 
DYKE CODES "Pre-internet, post-disco, a new generation of old school queers share their stories about coming out as young dykes of color outside of big city life." Wed/21, 7pm-9pm, $5-$15 donation requested. GLBT History Museum, SF. More info here.  
MUTANTE Experimental grooves and dark and fuzzy vibes from a stellar crew of DJs, plus live visuals and tarot readings! Wed/21, 7pm-2am, $3 (femmes free). Lone Star Saloon, SF. More info here. 
KOSMETIK Queer techno party from Matthew Paul and Jordee (whose recent "Non-Binary Transmission Mix" blew me away), hosting a live set from Berlin's Sky Deep. Wed/21, 9pm-2am, $3. The Stud, SF. More info here.
THURSDAY, JUNE 22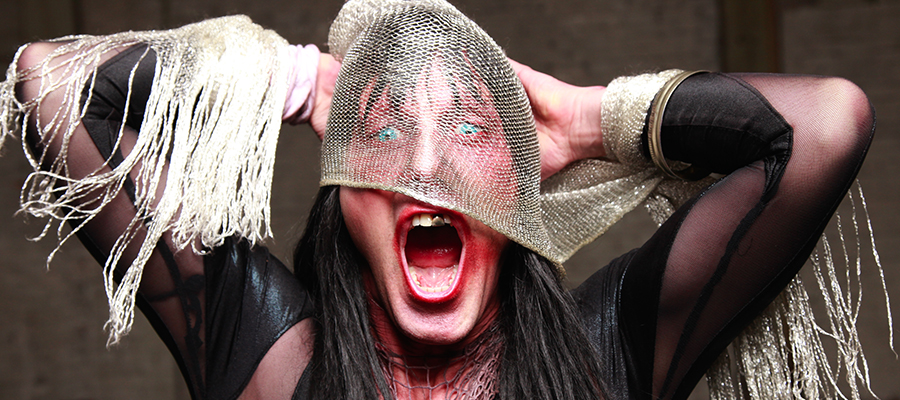 CHRISTEENE AN THA BOYZ It is very hard to describe the swampy drag antics of Christeene, but her raps and rhymes somehow transcend bad, often problematic jokiness into something unspeakably, hilariously nasty and raw. Thu/22, 9pm, $10-$15. Rickshaw Stop, SF. Tickets and more info here. 
GAY SHAME AWARDS "The GAY SHAME AWARDS rewards all those glorious gentrifying genocidal forces and adulting life-hackx that shine bright like a blood diamond. Get ready for the mobile street soirée. Direct action will have never looked better as you come dressed as a glittering ghoul (or their gay best friend) from the Bay and beyond! This historic night will commemorate our unique ability to always be the worst." Thu/22, 7pm, free. Jose Sarria Court, SF. More info here.  
PRIDE NIGHTLIFE Once a year the Cal Academy of Sciences goes incredibly gay — and it's a real hoot. Join Juanita More, Heklina, the Hella Gay crew and drag animals galore for dancing, learning, and general carousing. Thu/22, 7pm-10pm, $12. Cal Academy, SF. Tickets and more info here. 
LEXINGTON CLUB: GLAMOUR SHOTS The city's legendary dyke bar, the Lexington Club, may be gone, but its spirit lives on in events like this: A dance-and-drink party full of large scale projections of local queer photographers and artists. Thu/22, 9pm-2am, free. Virgil's Sea Room, SF. More info here. 
THE TUBESTEAK CONNECTION San Francisco's longest-running gay weekly is a wonderful reconstruction of the glory days of disco cruising's yore. DJ Bus Station John turns Aunt Charlie's Lounge into steamy time capsule — no phones are allowed, vintage porn adorns every inch, and the music is non-stop bliss. Thu/22, 10pm-2am, $5. Aunt Charlie's Lounge, SF. 
RIGHT ABOUT NOW "The election happened. Like everyone else, queer artists have been plunged into a new reality. So now what? Through stories, performance, and multimedia art, queer artists will square off against post-election realities. They'll draw inspiration, critical lessons, and tactics from past generations of artist-activists who faced down historic challenges." Thu/22, 7:30pm-9pm, $12-$20. African American Arts and Culture Complex, SF. Tickets and more info here.  
PRIDE NIGHT AT COMIX EXPERIENCE Calling all queer comics nerds. Here's a cute little gathering, featuring cosplay, drinks, raffles, and guest artist Ken Wada. Thu/22, 8pm-11pm, free. Comix Experience, SF. More info here. 
BEAUTIFUL! Alas, scruffy party palace the Elbo Room (in previous lives a classic lesbian bar) is on its last legs: Let's fill it with wild drag and music for one more Pride. VivvyAnne Forevermore hosts a circus of wildly entertaining, artsy misfit gender clowns. Thu/22,  10pm-2am, $10. Elbo Room, SF. More info here.  

MAN'S BEST FRIEND Are you a good pup looking to wag your tail with a couple hundred new and sexy friends? Join the Fog City Pack for a night of dancing, petting, and pawing. Fri/23, 10pm-4am, $10. The Stud, SF. More info here.
FRIDAY, JUNE 23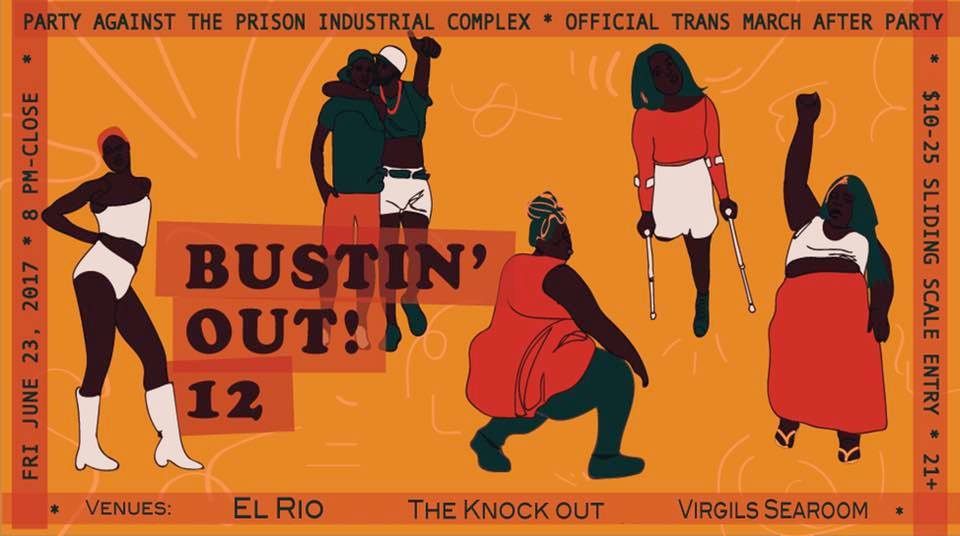 TRANS MARCH This year's theme is Celebrating Resilience with Love and Resistance. "Our rights and existence have been more intensely under attack since the election so it's even more critical that we gather this year to fight back, resist, celebrate and create community. Let's make this a huge showing of how powerful and incredible we are!" Fri/23, 3pm rally, 6pm march, free. Dolores Park, SF. More info here. 
BUSTIN' OUT 12: PARTY AGAINST THE PRISON INDUSTRIAL COMPLEX A huge Pride Friday tradition — and a ton of fun — for a great cause: raising money towards aiding currently and formerly incarcerated trans people. Tons of DJs and bands in three locations! Virgil's Sea Room and The Knockout. Fri/23, 7pm-2am. Check out all the info here. 
MR. Another yearly tradition, full of funny fake mustaches, cute boys, and really good music. Our own house master David Harness, Borja Peña (Daddy Issues, London), and Juan blow a wind up everyone's shorts at the site of the old Loading Dock leather club. Fri/23, 9pm-2am, $15. Verso, SF. Tickets and more info here. 
DJ HEATHER We are getting so much incredible music from the Midwest this weekend, as another renowned player from Chicago, Heather, sparks up the Polyglamorous party with her deliciously high-energy techno. Oh, and a certain New Orleans daddy who goes by Father Figure will also take the decks. Fri/23, 10pm-4am, $25-$30. Club Six, SF. Tickets and more info here. 
CLUB LONELY This is one of my favorite monthly parties in San Francisco, super-diverse and crazy danceable, for this edition bringing in Michael Magnan from NYC's awesome Battle Hymn party. Fri/23, 10pm-4am, $10. Club OMG, SF. More info here.  
POUND PUPPY PRIDE Why are there so many good parties on Friday?? This one brings in yet another cute New Orleans player, Bouffant Bouffant, for mystical techno tunes, all in a woof-laden atmosphere of cuddly scruffies, plus a lovely patio. Fri/23, 10pm-2am, $10. Eagle SF. More info here. 
RED HOTS BURLESQUE Queer burlesque, you say? Oui, oui! Dancing, singing, stripping, swinging — with legends like Gina La Divina giving you red hot LIFE. Fri/23, 7pm-9pm, $10-$20. The Stud, SF. Tickets and more info here.    
BLACK FRIDAY: PRIDE Honey Mahogany hosts this extravaganza of performers of color, from drag and live singing to burlesque and beyond. All are welcome to dance and celebrate! With DJs Miss Pop and John F*cking Cartwright. Fri/23, 10pm-4am, $15. The Stud, SF. More info here.  
ELECTROLUXX The cuties behind the popular Mass party go big with this wildly accessible funfest featuring hoop performances, virtual reality, Silent Disco, face-painting, art displays, teddy bear cuddle puddles and lots and lots of young 'uns in leggings. Fri/23, 10pm-4am, $30-$40. Public Works, SF. Tickets and more info here.    
STEAM DOES PRIDE Time for a shower before your weekend marathon? This steamy to-do recreates a bathhouse ambience with a hip wink. Wet towel contest, massage, power shower go-go booth, and special guest DJ MJR! Fri/23, 10pm-2am, $5. Powerhouse, SF. More info here. 
BEARRACUDA UNDERWEAR PRIDE PARTY Big fuzzy bear bellies spilling out of briefs. That you can dance to! Fri/23, 9pm-3am, $15-$40. Folsom Street Foundry, SF. Tickets and more info here. 
SATURDAY, JUNE 24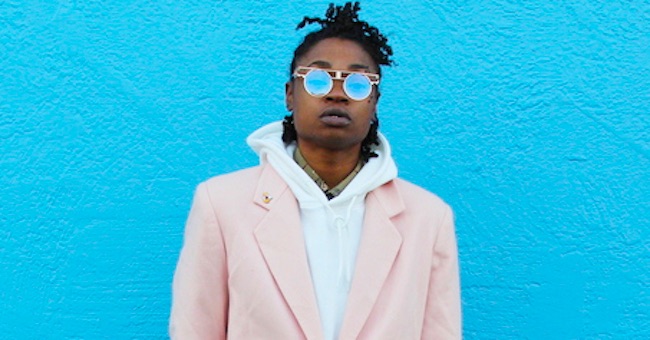 DYKE MARCH One of the city's most important and inspiring political gatherings, which has remained searingly outspoken through the corporatization of Pride, and is essential for anyone who fights for liberation. Sat/24, rally 2pm, march 5pm, free. Dolores Park, SF. More info here.  
WILD THINGS Bananas lineup of brilliant local and international hip-hop players (including UNIIQUE, CupcakKe, Micahtron, and rising star Ah Mer Ah Su), at this banger full of babes, babes, babes. Nail art, massage, pop-up shop, go-go squad, and more. Sat/24, 7pm-3am, $20. Public Works, SF. Tickets and more info here. 
DJ SHIVA AKA NONCOMPLIANT Hey, I'm throwing this all-night dance party at the Stud, featuring this legendary underground techno DJ from the Midwest plus Siobhan Alovalot and Jordee playing back to back. All aboard the Stud spaceship! Sat/24, 10pm-4am, $20. The Stud, SF. Tickets and more info here. 
CHARLOTTE THE BARONESS Wow! Bay Area techno royalty from the EndUp's glory days, back on the decks courtesy of one of our coolest record stores, Vinyl Dreams, for this special Pride party at Cafe Du Nord. It's a killer lineup with DJs RoseGold and Infinite Jess on support. Perfect SF flavor. Sat/24, 9pm-2am, $5 before 10pm, $10 before midnight, $15 after. Cafe Du Nord, SF. More info here.   
TRINA Your neck, your back, Pride Saturday will be crackin' — as this Miami bad girl rap legend and Diamond Princess stuns the crowd at Swagger Like Us, our wondrous queer hip-hop extravaganza. Sat/24, 9pm-3am, $30. Mezzanine, SF. Tickets and more info here. 
MANGO PRIDE The longest-running lesbian dance party in SF returns for this babe bonanza, featuring latin and hip-hop beats all night plus dancers, free BBQ, Pride goodies and more. Sat/24, 6pm-2am, $15. El Rio, SF. More info here. 
LOVE HANGOVER Prime yourself for Sunday's Pride madness with some lovely afternoon disco dancing on the patio of the Lone Star, as DJ Carrie Morrison spins and twirls you into her gleaming world of sound. Sat/24, 3pm-9pm, $5. one Star, SF. More info here.  
MYSTIC BILL Another of our coolest record stores, RS94109, is hosting this classic house wonder, with Josh Cheon and Bezier of Honey Soundsystem opening up. A very nice kickoff to your evening pre-Pride bender. Sat/24, 8pm-midnight, free. RS94109, SF. More info here. 
SF POLITICS FOR THE 99% – AN INTRO WITH LGBTQ LEADERS "Do you wonder why local politics is so fractious? Why we can't seem to solve the housing crisis? What do politicians mean when they call themselves "progressive"? A primer on the history that got us here and the present issues that define the city. Featuring LGBT leaders:
David Campos, Tom Ammiano, Gabriel Haaland, Kimberly Alvarenga, Christina Olague, plus Clair Lau and Tim Redmond. Sat/24, 12:30-2:30, free. Koret Auditorium, SF. More info here. 
GAY OLE OPRY WITH MARLENE TWITTY-FARGO AND THE TWAT BISCUITS I just had to type that whole name, and my goodness, I may never recover! Bluegrass drag with a country-time queen and her band, plus a Southern cooking pop-up and R-rated bingo. Jump on the heeey wagon. Sat/24, noon-3pm, $5. SF Eagle. More info here. 
ASHEQ A Middle Eastern-North African queer dance party with amazing belly dance show and awesome music? Sign me up for heaven, please. Sat/24, 9pm-2am, $10. Slate, SF. More info here.
BOOTIE PRIDE One of the wildest regular parties in SF — the one that kicked off the mashup craze in the last decade — throws its annual gayest party ever, with Lady Gaga vs. Madonna mashups all night long with a punk rock attitude that improbably shines through. Sat/24, 9pm-late, $10-$20. DNA Lounge, SF. Tickets and more info here. 
SUNDAY, JUNE 25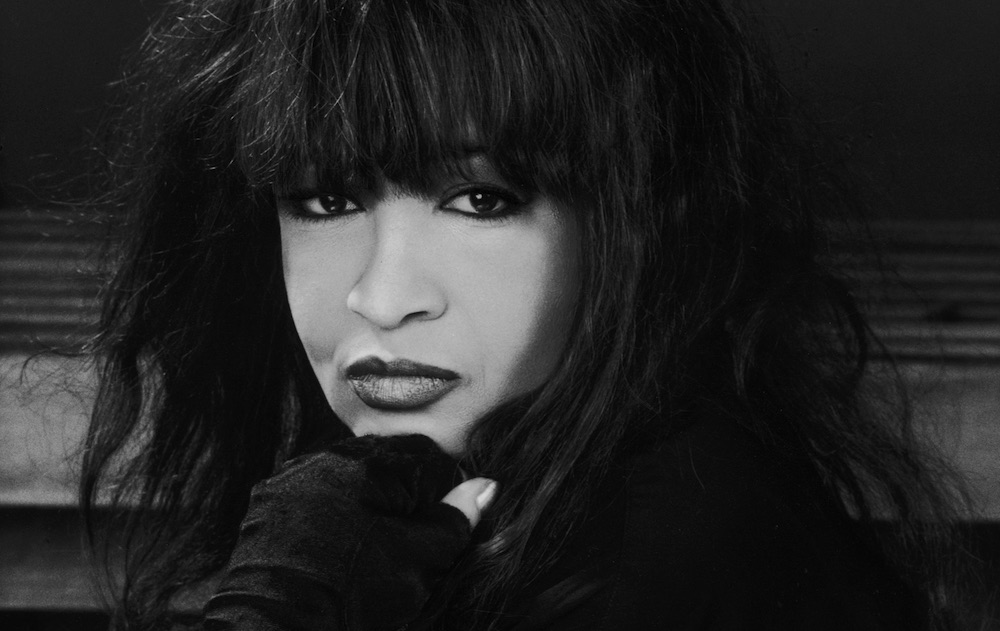 47TH ANNUAL SF LGBT PRIDE PARADE AND CELEBRATION It's big, it's long, it's crazy, and it still brings a tear to my eye — straight teens in tutus and all. One of the biggest Prides in the country actually starts on Saturday (come down then to check out booths and stages and avoid huge crowds), or dip in on Sunday and cheer on the various contingents. Don't miss the refreshing Indie Oasis Dance Stage and the first Bluegrass Pride Float! Sun/25, 10:30-4pm, Civic Center, SF. More info about parade and celebration here.  
RONNIE SPECTOR Essential SF Pride queer soul party Hard French Hearts Los Homos scores big with this '60s powerhouse who won't be your little baby. And she's just one part of the wild festivities. Sun/25, 3pm-11pm, $30. Mezzanine, SF. Tickets and more info here. 
JUANITA MORE! PRIDE 2017 THE party for the fashionable, friendly, and fabulous, a tradition full of sonic and visual delights, including NYC DJs Christy Love and Onehalf Nelson, and a performance by Princess Diandra, Rhani Nothingmore, and Nicki Jizz as "Labelle." I mean. I mean! Sun/25, $30 benefitting Q Foundation (formerly AIDS Housing Alliance) and The LGBT Asylum Project. Jones, SF. More info here. 
MIGHTY REAL A classic house extravaganza! Quentin Harris, Tedd Patterson, and Hector Romero bring extra splashes of soul to this outdoor pool party for the true dancers, joining David Harness, our resident soulful house  luminary. This lineup is making me tear up. Sun/25, noon to 6:30pm, $60. Phoenix Hotel, SF. Tickets and more info here.  
STUD BIG GAY PRIDE Oh hey we are open with fabulous DJs and cheap drinks from noon to 9pm, and then we are having an awesome dance party with Atlanta techno wiz Vicki Powell and very special secret surprise guests until 4am! Sun/25, noon-4am, free before 9pm, $10 after. The Stud, SF. More info here.  
QUEERLY BELOVED Yay! This annual daytime party on El Rio's patio is super-queer and off the chain. Courtney Trouble hosts a hot hot gaggle of DJs, performers, and sexy people (including Tender Forever and Micahtron), and will donate a portion of the proceeds to Black Lives Matter. Sun/25, 3pm-9pm, $13-$15. El Rio, SF. Tickets and more info here. 
HONEY SOUNDSYSTEM PRIDE DJ Holographic is my baby! The Detroit phenomenon mixes up-to-the-minute techno with classic soul anthems and non-stop classic house energy  — you will explode when she headlines this annual "must" from the Honey Boys. Sun/25, 9pm-4am, $25. Folsom Street Foundry, SF. More info here. 
PRIDE! AT THE CHAPEL Powerhouse performer Trixxie Carr heads up a huge host(less) of drag queens and musical entertainment at this indispensible indie concert venue in the Mission. Apparently there will be an ice luge for shots(!) Sun/24, 8pm-2am, $10. The Chapel, SF. Tickets and more info here. 
WERD PRIDE WEEKEND CLOSER This adorable weekly techno party is dancing you through the end of the rainbow with DJs Robert Jeffrey, Jeremy Castillo, and OneA. Sun/25, 9pm-2am, $5. Monarch, SF. Tickets and more info here. 
OASIS POOL PARTY The building that houses Oasis nightclub used to be famous for its pool — every year, the owners play cheekily off that history by bringing in a kiddie pool and fun floaties. It's perfect (with strong cocktails) for a sunny afternoon in the city. Sun/25, 1pm-6pm, free. Oasis, SF. More info here. 
DISCO DADDY Yes, we've saved the "sweetest" for last — DJ Bus Station John's blockbuster, beauteous disco party at the Eagle is here for a special Pride edition. Join the magic on the dance floor (or a darkened portion of the patio). Someone just might hand you a tambourine! just what the doctor ordered if you need some sweet release. Sun/25, 7pm-2am, $5-$7. Eagle SF. More info here.
MONDAY, JUNE 26
no calls, no texts.
SOME QUEER-ADJACENT PARTY/SHOW RECOMMENDATIONS
Thursday: Summer of Love Dance Party at Grace Cathedral
Friday: Kehlani at Greek Theatre
Saturday: Pink Mammoth Fifth Annual Block Party
Saturday: Lights Down Low with Karizma
Sunday: Cat Power at the Fillmore